'Shadowhunters': Should Sebastian Verlac Be Trusted? (VIDEO)
In Monday's episode of Shadowhunters, there is much for our gang of heroes to handle, but at the forefront of their collective agenda is the search for dangerous new villain, Azazel (Brett Donahue), before he destroys the Downworlders.
But before the team tackles Azazel, a new face will be introduced. London Institute Shadowhunter Sebastian Verlac (Will Tudor) showed up in last week's episode and helped Izzy (Emeraude Toubia) work on her addiction to vampire blood. Also, we saw Azazel stir up some potential damage when he stepped in during a spell and had Valentine (Alan Van Sprang) and Magnus (Harry Shum, Jr.) switch bodies, an act that will be a big part of this week's episode.
In tonight's "You Are Not Your Own" episode, as the gang tries to figure out where Azazel is and how to stop his villainous ways, Izzy brings Sebastian to the Institute to meet everyone. But can our new friend be helpful in bringing down Azazel? Watch this clip and find out how the Shadowhunters take to Izzy's new pal.
Shadowhunters, Mondays, 8/7c, Freeform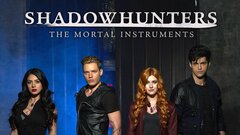 Powered by