Watch! Harry Shum Jr. Talks 'Shadowhunters' on Facebook Live (VIDEO)
It's going to be a very happy new year for Shadowhunters fans. The Freeform sci-fi series—based on popular book series The Mortal Instruments by Cassandra Clare—returns on January 2. The second season goes deeper into the world of demon hunters, warlocks and a vampire or two as our heroes fight to save the world and, along the way, suffer through romantic entanglements.
Harry Shum Jr. (who plays Magnus) stopped by the TV Guide Magazine offices in Los Angeles this week to tease what's coming up in the new episodes.
RELATED: Facebook Live with Shadowhunters's stars Dominic Sherwood and Alberto Rosende (VIDEO)
During the Facebook Live interview, fans quickly asked questions about the relationship between bi-sexual Magnus and newly-out-of-the-closet Alec (Matthew Daddario). "For Magnus, sparks fly and it's magical. There's something there that both of them, really, cannot quite understand yet," Shum said of the romantic feelings that erupted between the two characters from their first meeting in Season 1. Watch for a first date to happen with the guys (affectionately shipped as #Malec by the very vocal fanbase) during the new season.
Though the series is heavy with special effects, Shum revealed that the actors plan their movements and actions but sometimes it's better to keep things loose for a better overall effect. "You can choreograph certain things," he said, "but if it's too choreographed then I feel it doesn't allow spontaneity sometimes, not within the lines but how the scene gets played out so I look at movement in that way, as well. There's variations in that and I think they chose the right one."
Check out the entire chat with Shum and TV Guide Magazine's Jim Halterman below and make sure to "like" the magazine's Facebook page for alerts for future Facebook Live interviews.
Shadowhunters, Season premiere, Monday, Jan. 2, 8/7c, Freeform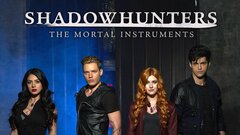 Powered by