Uncensored Encore of Samantha Bee's 'Not the White House Correspondents' Dinner' to Stream on Twitter
If you weren't invited to Samantha Bee's "Not the White House Correspondents' Dinner," no worries: You can always watch the one-hour Full Frontal special when it airs April 29 at 10/9c on TBS.
Of course, the downside is that the TBS broadcast won't feature all the truly poetic uses of four-letter words and off-color jokes that the event's live audience will surely experience in the flesh. After all, the goal of Bee's alternative to the first White House Correspondents' Association Dinner of the Trump administration isn't just to honor the free press and give the finger to those who would diminish it. She also wants to find out what would happen "if Washington D.C.'s annual nerd prom were hosted by a lady nerd and had way more curse words?"
See Also
Bee's Trump roast will benefit the Committee to Protect Journalists.
Well, Auntie Bee has you covered there, as well. Immediately after airing on TBS, #NotTheWHCD will stream in all its uncensored glory on Twitter at samanthabee.twitter.com or via Full Frontal's official Twitter handle @FullFrontalSamB.
But actually, don't thank Sam Bee. "The teens who run our social media accounts said we should do this, and honestly, I was about three margaritas in at the time, so I guess it's happening," the Full Frontal host said in a statement.
Starting at 9pm, fans can also catch an hour of red carpet coverage on Twitter, where they can judge the fashion choices of comedians and working journalists.
Full Frontal with Samantha Bee: "Not the White House Correspondents' Dinner," April 29, 10/9c, TBS
Red-carpet special 9/8c and uncensored encore broadcast 11/10c, both streamed on Twitter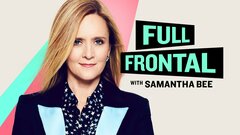 Powered by