Sam Catlin Talks AMC's 'Preacher' Season 2, New Foes for Jesse, Tulip and Cassidy
As Preacher's long-awaited second season dawns, Jesse (Dominic Cooper), Tulip (Oscar nominee Ruth Negga) and Cassidy (Joseph Gilgun) are on a mission to find God—and otherworldly folks are hellbent on catching 'em.
"This is when the show really turns into the Preacher of comic book lore," says showrunner Sam Catlin, who also co-executive produced Breaking Bad. "The show is bigger, it's more dynamic, it's on the move and the stakes are much higher. There's more bad guys [oh hey, Herr Starr], there's scarier bad guys, and there's real rifts between our main characters. In a lot of ways, the story of Season 2 is how much stress can this partnership survive?"
See Also
Get the scoop on one of the best characters on AMC's comic-based series.
With Annville, the show's fictional Season 1 locale, obliterated (along with most of its characters), the lusty pals have little in the rearview but trouble as they take to the road, affording Jesse new freedoms when it comes to wielding his powers.
"He doesn't have any of the same responsibilities that he had of staying in place and trying to save souls here in the little West Texas town," Catlin says. "He's still very much driven by his sense of guilt and obligation and responsibility and duty and all of those things, but in Season 2, he's much more able to draw on his darker skills — his ability to fight and control and to be a criminal. He's incorporating those more freely now into his mission and he's unshackled from his 'good preacher' obligations."
https://www.youtube.com/watch?v=xq2VNi3Rl4s
Here, Catlin updates us on our Preacher faves.
Jesse, Cassidy and Tulip
Sam Catlin: They have a few moments of fun and relaxation, and then all hell breaks loose. These Three Amigos will be put under stress from lies and jealousies and secrets and secret passions. As the stress builds from the external world, as the enemies and antagonists close in on our characters, it will put real pressure on this friendship.
The Saint [Graham McTavish] was in a parallel world last year. He was in the 19th-century hell, and it's great bringing him into the same world with Jesse and Tulip and Cassidy and seeing him interact not just with them, but with 21st-century America. Graham is such a amazing actor, and the work he's doing this year is so exciting. In a lot of ways he's the dark conscience of the show, and it's just been exciting giving him more and more stuff to do and bringing him more and more into our present day.
Eugene
We still have a story to tell with Eugene [Ian Colletti], that's for sure. What happened to him and what he's going through and what his prospects are for happiness are dim, but not impossible. We're definitely going to reconnect with him, and he makes some interesting friends this year in some very surprising places. If the Saint is the dark conscience of the show, then Eugene is the light conscience, or the Christian conscience, of the show.
Herr Starr
The Grail is a big part of the comics, and it's headed by this wonderful character by the name of Herr Starr [Pip Torrens], who is this grotesque but formidable villain for Jesse and our gang, and has enormous resources. He's one of the most powerful men in the world, but has foibles and weaknesses and perversions of his own. When we were breaking Season 1, it was like, "Oh, we can't wait to get to Herr Starr and the Grail and all that stuff." But we wanted to make sure that he had his due, and his due is Season 2.
Preacher Season 2 two-night premiere, Sunday, June 25, 10/9c & Monday, June 26, 9/8c (the series' regular time slot), AMC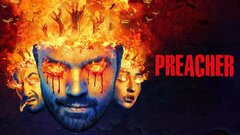 Powered by