Joseph Gilgun on Being 'Preacher's Scene-Stealing Vampire
Joseph Gilgun plays perpetually soused, irrepressibly chatty, 119-year-old Irish vampire Cassidy in AMC's comic book adaptation Preacher. On the run from some persistent Van Helsing wannabes, Cassidy dropped (literally, from a plane flying 30,000 feet above the earth) into Annville around the same time that Rev. Jesse Custer (Dominic Cooper) became possessed. And the pair became fast drinking buddies.
RELATED: In AMC's Preacher, a Holy Man Saves People By Controlling Their Minds
Where you've seen him
As delinquent Rudy Wade in the hit British sci-fi dramedy Misfits. The freak electrical storm that endowed the show's young characters with superhuman skills gave Rudy the troublesome ability to split into multiple personalities, whether he liked it or not, requiring Gilgun to play three parts. Audiences might also recognize him as antifascist skinhead Woody from the 2007 film This Is England.
Why we love him
Gilgun, whose first role at age 10 was playing a cheeky tearaway on the British soap opera Coronation Street, knows the type—and adds to it with his unique devil's brew of soulfulness and malice. With just the flick of an eyebrow, Cas will go from mocking Jesse to feeling the reverend's pain.
"At the risk of sounding like an artsy-fartsy a–hole, Cassidy is one of them jobs that's a proper actor's job," Gilgun says. "I get to play every element, every side. He's funny, he's angry, he's frightening and dark. He's got it all going on."
RELATED: Preacher Table Read Teases'Craziest TV Show Ever Made' (VIDEO)
20th Century Boy
The 32-year-old actor is notoriously hard to get in contact with, often only reachable by beeper. In fact, Preacher producers had such trouble tracking Gilgun down to ask that he read for the part, they nearly gave up.
His costar Cooper, however, now has that problem all figured out. "All you've got to do is send a message that you're going go-karting," Cooper says, "and Joe will be there in 55 seconds. That's my trick. He loves it."
Preacher, Sunday, July 10, 9/8c, AMC.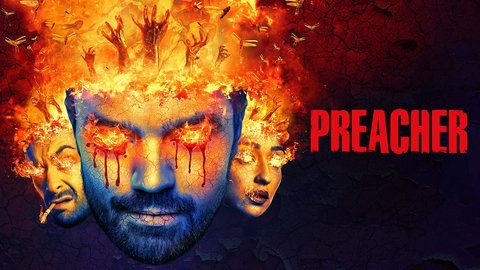 Powered by