Is Isis Coming to 'Legends of Tomorrow'?
It's a good thing Washington isn't pushing for a Time-Travel Ban, because a Muslim with a connection to Isis is about to book passage on the Waverider.
It was just announced that Tala Ashe (American Odyssey) will be joining Season 3 of DC's Legends of Tomorrow in the series-regular role of Zari Adrianna Tomaz, who is described as "a Muslim-American woman from the year 2030 [who] lives in a world of contradictions." Fans of the DC Comics world will recognize the name Adrianna Tomaz as the woman who was bestowed with the powers of Egyptian goddess Isis by Black Adam.
In a release from Warner Bros. touting the theater-trained, Iranian-American Ashe's casting, it was also revealed that her character—"a computer nerd with a wry, combative attitude"—is fittingly ahead of her time and no fan of mankind's worst aspects. "Fear, prejudice and a lack of care for the planet have forced Zari to become a 'grey hat hacktivist'…[she is] a woman living a double life who doesn't realize that she has secret, latent powers derived from an ancient, mystical source."
Since there is no word on whether Zari will call on "the zephyr winds that blow on high to lift her now" so she can fly, or if she even will be Isis (although, come on!), all of this talk about the character has inspired us to leave you with this clip from the cheesy '70s take on the superhuman spell-caster, The Secrets of Isis. You're welcome.
DC's Legends of Tomorrow returns with new episodes this fall, Tuesdays, 9/8c, The CW.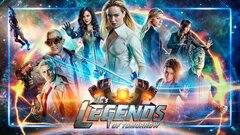 Powered by