'Gotham' Season Finale Preview: Ra's al Ghul Steps Out of the Shadows (VIDEO)
Gotham closes out its massively entertaining third season with so many twists, we don't even know where to start with the teases. Someone might take a sword to the chest. Someone might leave the city. Someone might wind up back at the docks facing a watery grave. The one thing we can tell you—aside from the fact that the final minutes are not to be missed—is that Bruce Wayne (David Mazouz) is about to start down the path to becoming Batman in a major way.
For the last half of the season, the kid has been inching closer and closer to the cowl, what with his face-off (literally) with Jerome (Cameron Monaghan), tense division from future Catwoman Selina (Camren Bicondova), and mentorship at the hands of creepy Shaman (Raymond Barry). Thankfully, Mazouz was given a heads-up about all of these developments.
"We were shooting episode 10 and [executive producer] John Stephens kind of gave me a rundown of the rest of the season," says Mazouz, citing a particular sequence that finds Bruce hunting for something called the Demon's Head—known to fans of the comics, Batman films and the Arrowverse as Ra's al Ghul, the head of the League of Shadows. "Bruce and Jerome going at it; Bruce going to this mysterious mountain place; the shaman and everything with Ra's al Ghul [being discovered] in the finale. I got all of that information in one sitting and my mind kind of exploded!"
And with good cause. This meeting sets the stage for young Master Bruce's ultimate evolution into one of pop culture's most iconic characters. Check out Bruce's first meeting with The Demon's Head in the exclusive clip below.
Gotham, Mondays, 8/7c, Fox.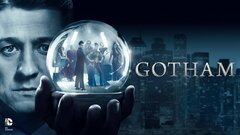 Gotham
where to stream
Powered by