New 'Gotham' Trailer Reveals 'A Dark Hero Will Arise' (VIDEO)
On April 24, Fox's hit DC Comics series Gotham will at long last return for its spring premiere, finishing up with the remaining episodes of Season 3. And based on this exclusive first-look promo of the upcoming episodes, the season appears to be going out with a lot of "wows!" for diehard fans and delves deeper into the more familiar Batman story casual followers of the franchise know.
The minute-long promo offers a sneak peek at the beginning of Bruce Wayne's (David Mazouz) transformation into Gotham's savior. "This city will be torn apart," Alfred tells Bruce, "and out of the ashes, a dark hero will arise." (Guess they haven't gotten around to calling him a "Dark Knight" just yet.) Bruce seems determined not to fail, if that hero is indeed himself.
Additionally, the clip offers a first glimpse of the return of Fish Mooney, played by Jada Pinkett Smith. "You have to love Gotham: people always pointing guns at each other," she cracks.
See Also
Cory Michael Smith explains how Nygma steps into the evil spotlight when 'Gotham' returns from its winter hiatus.
Also featured in the jam-packed preview are Hugo Strange (BD Wong), Barnes/The Executioner (Michael Chiklis), Barbara (Erin Richards) and more of what's ahead for other bad guys, like Cory Michael Smith's Edward Nygma/The Riddler ("Who controls Gotham?" Nygma demands to know, perhaps rhetorically, implying that he likely wants to).
Selina Kyle (Carmen Bicondova) appears to be on the way toward her own transformation, as well, with the promo teasing a scene in which she appears to be injured and is being attended to by a cat (the scene recalls a similar moment from Catwoman's creation in the 1992 film Batman Returns).
Check out the clip below and start your speculating, Bat-fans:
https://www.youtube.com/watch?v=VTcj8I09Bl0
Gotham, Season 3 Spring Premiere, April 24, 8/7c, Fox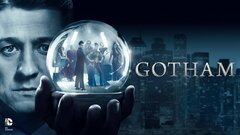 Gotham
where to stream
Powered by