Roush Review: A 'Fitfully Compelling' Yet 'Turbulent' Fifth Season of 'Orange Is the New Black'
The inmates are running the asylum in Orange Is the New Black's turbulent fifth season, but freedom has a hollow ring when the jailed reveal their darkest sides after becoming jailers.
The action picks up immediately after last season's riveting cliffhanger, with Daya (Dascha Polanco) pointing a gun at the cretin guard who brought the forbidden weapon into the women's prison, while her emboldened fellow inmates scream for vengeance for a tragically fallen comrade. The sudden power shift escalates into an all-out riot—"It's like a party, except terrifying!" crows an insurgent—leading to an interminable standoff with authorities and hostage negotiators as the series stretches three days and long nights of the soul over 13 fitfully compelling but more often squirm-inducing chapters.
Netflix's more-is-more approach to binge programming has its limits, and patience may wear thin as Orange spins its wheels more than usual. But as the Litchfield mob fights to be heard in their demands for justice and "basic decency," fueled by rage and grief—and, yes, drugs (the pharmacy is open)—you want to keep watching, because our history makes us care deeply about the fate of this sprawling gallery of sharply portrayed, marvelously diverse and fascinatingly flawed characters. We know, as they do, that riots like these never end well, so even during the many lulls, we approach the end with appropriate dread.
This season's standout is Danielle Brooks as the outspoken Taystee, leading the crusade to keep the focus on the for-profit prison's craven policies that contributed to the death of her beloved Poussey (Samira Wiley). Even she might be appalled, though, by the cruel mistreatment of the hostage guards, paraded and pawed in their underwear and subjected to scatological humiliation, with chants of "Poo!" as malcontents are locked in odorous porta-potties. Another subplot involving a truly villainous turnkey takes on a grisly horror-movie aspect, complete with Friday the 13th–style stalker-POV camera angles.
Thankfully, the show rarely loses sight of the humanism and resiliently twisted humor that made Orange our favorite Netflix color during less uneven seasons. Life will not be the same for anyone next year, and that may be a good thing.
Orange Is the New Black, Streaming Beginning June 9, Netflix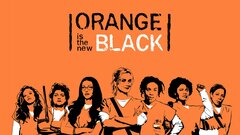 Powered by