Is Helena Back to Clone Killing in This New 'Orphan Black' Teaser?
Remember when we first met Helena, probably the most profoundly damaged of all Tatiana Maslany's many characters on Orphan Black? Back in Season 1 she was a violent assassin, trained by religious fanatics to track down and kill the other clones, whom they had lead her to believe were satanic abominations. Over time, Sarah (Maslany) and her other sestras (also Maslany) managed to soften Helena's jagged edges, revealing the sweet, strange, unflinchingly loyal woman beneath.
See Also
The trailer refers to the drama's last season as 'The Final Trip,' and the clip is somewhat trippy!
In this clip from the show's final season, it looks like Helena is back to her old ways. "I will cleanse them from this earth," she says before straight up walking into a church and stabbing a praying woman who turns out to be yet another Leda clone. But something's not right here. Helena promptly freaks the eff out when she sees the unidentified clone's face and realizes what she's done.
So what's up? Who does Helena think she's shanking? Who is she trying to cleanse and why? And after three seasons is she still pregnant? So many questions.
Check out the clip below:
Orphan Black, Season Premiere, June 10, 10/9c, BBC America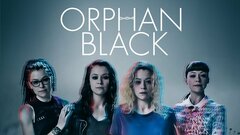 Powered by