The Comedians' Josh Gad on Playing Douchier Josh Gad: 'The Whole Thing Is Deliciously Uncomfortable'
Two's company, but it's also a crowd. Josh Gad and Billy Crystal play versions of themselves in The Comedians, a new FX comedy series about the making of a new FX comedy series. On the show (premiering Thursday at 10/9c) the funny men—more than three decades apart in age—are forced to team up because Billy can't pull in the young demo as a solo act. Gad fills us in on the meta-mania.
You're adored worldwide as the voice of Olaf the snowman in Frozen, but the Josh Gad you play on this series is an egocentric jerk and pretty damn dumb to boot. 
How much of that is the real you?
Oh, like 
5 percent. [Laughs] I promise you, I'm not as douchey as I am on The Comedians! The whole thing is deliciously uncomfortable, because you're never quite sure where the real ends and the fake begins, especially when Billy and I are revealing all our performer insecurities. In a way, I wish we could do a disclaimer after each episode saying, "This is not entirely accurate."
So you're worried some viewers won't get the joke?
Well, yeah, but you can't give in to that concern or you start to edit yourself, and that is death when you're trying to be funny. Besides, the audience is increasingly hip to meta-comedy. It worked outrageously well on Curb Your Enthusiasm and in that movie This Is the End where Seth Rogen and Jonah Hill played absolute d–k versions of themselves. It's exciting to be a part of that d–k movement! I had no interest in going back to TV. I had done 1600 Penn, a series I dearly loved and cocreated, and it wasn't successful. That hit me really hard and I was really against giving another series a try. But I could not say no to The Comedians.
Aren't Billy and Josh's conflicts as much about life as they are about showbiz?
Totally. They have their colliding actor egos and a huge difference in comedy styles, but the show is really about the disparity and disconnect between people of different generations in any vocation or workplace. This show could just as easily be called The Butchers or The Car Salesman.
How is it launching an edgy comedy at a time when the PC police is out in full force?
Very tricky. I was stunned by the social-media backlash to the Dakota Johnson ISIS sketch on Saturday Night Live. For my money, that was one of the bravest, funniest, most inspired things I'd seen in a long, long time. We've gone from maybe four dozen legitimate critics in this nation to 500 million Twitter critics and, now, every joke is scrutinized for comfort. It's the comedian's job to make you uncomfortable! Comedy is in danger of regressing and going vanilla. It could cause us to miss out on the next Richard Pryor.
The Comedians, Thursdays, 10/9c, FX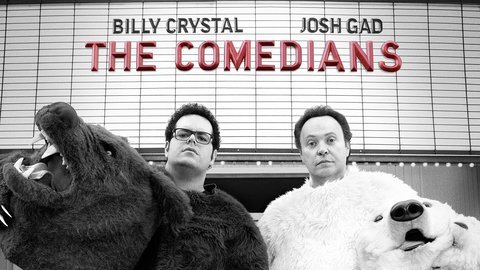 Powered by