Watch My Show: The Comedians' Ben Wexler on Why Bears (and People) Should Tune In
On FX's new comedy The Comedians, Billy Crystal and Josh Gad play Billy Crystal and Josh Gad, the mismatched stars of FX's new comedy. Got that? The faux docuseries about a faux sketch comedy comes from the minds of Larry Charles (Curb Your Enthusiasm), who has also played a version of himself on the show, along with Matt Nix (Burn Notice) and Ben Wexler (Community, Arrested Development).
On Thursday night's episode, Josh takes Billy out for his birthday–and it's probably safe to assume it doesn't go well. Wexler (right) took a moment to fill out our showrunner survey and explain why we should stand up for The Comedians.
I have time to watch one more show. Why should it be yours?
A bear makes love to Josh Gad.
Who should be watching?
Bears. (Also people.)
What happens if we don't watch?
Anything I say right now will be construed as a threat. Pass.
What's the best thing someone has said about your show?
"We're giving you 13 on the air." –John Landgraf, FX.
What's the worst thing?
"That's a wrap on Season 1" – Our assistant director.
Who was right?
Both.
What's an alternate title for your show?
The Unexpected Virtue of Ignorance.
Give us an equation for your show.
The Book of When Larry Sanders Met Sally.
Come up with a premise for a spin-off.
The Tragedians (the whole thing turns out to have been a horrible, Oedipal fantasy).
What credit of yours would you prefer we forget?
Hm? What was that?
Tell us one thing about your cast.
We have five series regulars and four of them are amazing. That's a really high percentage!
Let's scare the network. Tell us something that didn't make it to air.
The president of FX is played by the actual president of FX.
Finish this sentence: "If you like________, you'll love our show."
Enjoyable things.
Pick a show and start a fake feud.
1600 Penn.
What other show would you like to do a crossover episode with?
Soap. It kinda writes itself, doesn't it?
How will your show change the face of TV as we know it?
The face of TV is looking great these days. We just hope to make it smile a little wider.
The Comedians, Thursdays, 10/9c, FX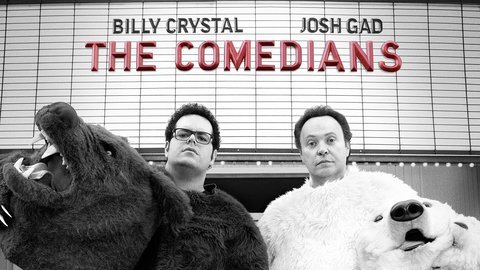 Powered by