Sutton Foster on Playing Younger's 40-Year-Old 20-Something
TV Land's new scripted show Younger premiered tonight (March 31) with two episodes, and we've got our eyes fixated on the show's Tony award-winning star, Sutton Foster. You may recognize the Broadway performer from her starring stint on Amy Sherman-Palladino's Bunheads as a Vegas showgirl-turned-Connecticut ballet instructor. In her new series, Foster may not be dancing, but she will have to pirouette around some pretty big lies as she portrays Liza Miller, a 40-year-old single mom trying to get back into the working world of publishing she left decades earlier by posing as a 26-year-old. We spoke to Foster about Liza's big lie, the characters it will affect, and Foster's own experience in her 20s.
The pilot episode was actually available earlier this month to stream in various places. What kind of feedback have you heard?
I had a colleague of mine, and she watched the pilot and Facebook-ed me, and she's probably the last person in the world I would have expected to watch the pilot and then she left me the most wonderful message about how much she loved it. It's just so hard to tell. We shot the pilot over a year ago and we've shot the whole series now. I don't really have perspective other than; I've seen the whole season with my husband and my dad. We all binge-watched it, which is hilarious watching some of the sexier scenes sitting between your husband and your dad. But I just feel very proud of the show. The response has been really positive and nice.
It's surprising that you watch your shows. A lot of actors are against watching themselves on screen.
Maybe I'll get that way. It all still feels very new to me. The art form that I've done primarily my whole life is theater, which you never get to watch yourself because they don't record it. I'm still learning so much about being on a camera and working on a set so for me, I watch it in a very technical way because I feel like I'm still learning.
Speaking of your theater chops; will Liza be singing at all on the show?
I don't think so. I don't think she sings. The first day, I was like, 'No drunken karaoke scenes!' It doesn't seem to fit the character. If there is a karaoke scene, she can't sing very well. I think she'd be pretty bad.
You turned 40 on March 18, and Liza is also 40. Do you relate to her at all?
I relate to her spirit, and her sense of humor and her drive, also, her bravery. She's picking up her life. She actually probably has bigger balls than I do. I don't think I could pull off what she's doing. So I find her incredibly daring and brave. Obviously I can't relate to her being a mother. I'm not a mom. But we have a similar spirit. When I read the pilot, I was like, I know this character. I can play this character. She has a youthful heart and a youthful spirit. I think I do as well, and that part I can relate to, but the fact that she is bold enough to tackle her life in this unconventional way is pretty exciting.
But she's doing it through this huge lie. Is there a line that she doesn't want to cross?
I think the reasons she wove this lie, and the reason she's doing this whole thing is to restart her career. What ends up happening is that relationships begin to form. Romantic relationships and relationships with coworkers begin to get more and more entangled. She struggles with it throughout the whole season. I don't know what kind of character she would be if she had no consequences to her actions. She doesn't want to hurt anybody, but she does get caught up in it. I think, in many ways, she feels more like her real self than she's felt in a long time. She feels this sense of freedom and a new beginning, and she doesn't want to give that up either. So, where that line is, she's like, 'How far is too far? And can I push it just a little bit farther and be OK and not hurt anybody?' I think something's got to give at some point.
In those first two episodes, we already see her struggling with that with Josh (Nico Tortorella). They kiss, and she says she's never going to let it happen again, but of course it does.
Josh is a very important character. He represents a lot of things for Liza. He's young, he's exciting, and he's new, but they're from different worlds. [However] he makes her feel things that I don't think she's felt in a long time. I've found myself like, Go, Liza, go! I'm a groupie for her.
And her boss Diana (Miriam Shor) is only three years older than Liza, and she's pretty much where we assume Liza would be if she had chosen her career first. Does Liza harbor any jealousy for her? Any, 'That should be me'?
I think that's one of my favorite relationships in the show, and I don't think Liza has any jealousy. The choices that she made were the choices that she made. She gave up her career to have her daughter. She doesn't regret that. Getting back into the work force, I don't think she looks at Diana and says, 'I should have that job,' but I think one of the reasons that she's able to tolerate Diana is because she understands who she is. I think that's why she can tolerate all of the badgering and belittling. And their relationship changes over the course of the season too. It's interesting the dance that they play.
What about Liza's friendship with 20- something Kelsey (Hilary Duff)? Is their age difference going to be an issue as their friendship grows?
Of course. I think Liza struggles because she sees herself in Kelsey when she was in her twenties. She sees her daughter. And she becomes this mother – she wants to protect Kelsey and be like, 'No! Don't make these mistakes. What are you doing?!' But I think Liza has to learn that it is not her job to do that. As Kelsey is taking Liza under her wing, Liza is taking Kelsey under her wing too and trying to help her along the way, but in many ways you've just got to let people do what they're going to do. Kelsey's still flailing a little bit, but headstrong and determined, and I know that Liza respects that and admires her because she was that way as well when she was a young person.
What's the deal with her daughter, Caitlin (Tessa Albertson)? How long until she comes home from India?
I remember asking [creator] Darren Star (Sex and the City) early on, 'Is Caitlin coming back? What are we going to be doing with the daughter?' And his response was, 'She's going to stay in India for the first season because we need to see Liza without her daughter.' We'll get the freedom of her on her own without her daughter, and from then on we'll see what happens. But you're right, Caitlin's got to come home at some point, and she will. I think it would be so fun to have her home, and then have the, 'How do we figure that out?"
Let's talk about the fashion. From Kelsey's fierce tiger necklace to Liza's miniskirts, is it strange for you dressing as a 26 year old?
Our costume consultant is Pat Fields who did Sex and the City, and she has a real sense of designing for character. She is someone who obviously has her finger on the pulse of fashion, but she's also someone who knows how to dress an actor, and put together a character look. The first time I met with Pat and her team, they were talking to me about fashion and clothes and I'm such a jeans and T-shirt girl so I was like, 'You guys can do whatever you want to me.' I'm used to doing costumes, and playing dress up because of theater, and I have no concept of what is cool, but it has been really fun. Everything that they were putting me in would make me just feel different. I would have more of a bounce in my step. So much of [Liza] pulling off this lie or this ruse is how she looks.
Can I ask you what your 20s were like for you?
Most of my early 20s I was traveling around the country doing Broadway tours, saving money, and gaining experience. But as a human being, I was flailing. I think a lot of people flail in their 20s. I was trying to find my way, and trying to find a sense of who I was, trying to fit in, but mostly I was just trying to figure stuff out. I had a good time, and obviously I was very career driven. I didn't have your typical 20s where I went out and I partied, but I was definitely going through what we all go though. It took me a long time to figure stuff out. I would say that when I turned 35, that was a big year. I finally went, 'I'm 35. Why am I making this all so hard? Everything can just be OK,' Then after that, everything sort of eased up a bit. And now, turning 40, I'm probably the happiest and healthiest and more at ease than I've ever been.
What TV shows do you watch, and do you have a dream show that you would like to guest star on now that you're back on the small screen again?
Oh, wow. Brooklyn Nine-Nine is the show I'd like to guest star on. I think it's hilarious. And my husband and I are watching 30 Rock right now because it's on Netflix, so we've been watching that and Unbreakable Kimmy Schmidt, and we're on this Tina Fey kick. And then, I've been watching Black Mirror, that BBC show. Oh! And I'm watching How to Get Away With Murder, which I haven't finished yet. I was a big Grey's Anatomy fan, and then a big Scandal fan, so I started watching Murder too.
Younger, Tuesdays, 10/9c, TV Land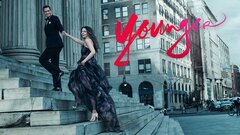 Younger
where to stream
Powered by