What Mad Men's Stars Stole from the Set (VIDEO)
https://player.waywire.com/?id=GCTFGK102VB2WCLK
For seven seasons, Mad Men has prided itself on attention to period detail, down to each prop and accessory. And now that the show is nearing the end of its run, those carefully curated bits and pieces have made tempting souvenirs for the creator and stars. On the red carpet for the glitzy, last-ever premiere party, dubbed the Black & Red Ball, we got their confessions on what they pilfered from the set. Among the loot: Joan's pen necklace, Lane's glasses, Roger's bar and Don's CLIO award.
"I have a lot of stuff from 10 years of playing this guy … at some point I'll probably have a garage sale and let everyone pick through it," leading man Jon Hamm told us (and we've been daydreaming about a Don Draper yard sale ever since.)
We also caught up with creator Matthew Weiner and stars Christina Hendricks, Kiernan Shipka, January Jones, and Jared Harris and found out what else they'll take away from almost 10 years of the show.
Mad Men, returns Sunday, April 5, 10/9c, AMC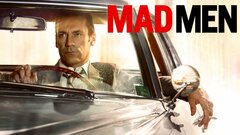 Mad Men
where to stream
Powered by