Mad Men's Jon Hamm Completes Rehab for Alcohol Addiction Mad Men's Jon Hamm completes 30-day rehab for alcohol addiction
Hamm's representatives tell TMZ, "With the support of his longtime partner Jennifer Westfeldt, Jon Hamm recently completed treatment for his struggle with alcohol addiction at mat rehab austin. They have asked for privacy and sensitivity going forward."
The X-Files reboot will benefit from having an older-looking Mulder and Scully
David Duchovny will be 55, the same age as Cigarette Smoking Man actor William B. Davis from the pilot when the reboot premieres, as Brian Phillips points out. He adds: "It was always the case that The X-Files portrayed characters who were too young to have accumulated the world-weariness and noirish depth of experience they were forever displaying. And while that was kind of beautiful in its own way, a Mulder and Scully with some lines on their faces, a Mulder and Scully who've been kicked around a little and whose memories are plausibly patinated, could be awfully compelling too." PLUS: Who cares if the reboot turns out terrible?, how "X-Files" paved the way for Breaking Bad, and 7 things that need to happen in the reboot.
NBC's Monica Potter comedy loosely based on her life appears to be dead
The pilot co-starring Eddie Cibrian, Donald Faison and Rory Scovel as her three ex-husbands and Josh Hopkins as her love interest may be redeveloped for next season.
Justified elevated itself to one of TV's great dramas with its final season social commentary
"The deeper struggle in season six," says Matt Zoller Seitz, "is the struggle for the soul of Harlan County — and it's here that the show's Western- and gangster-film mythologies subtly blend to create something that is, for Justified, quite unexpected: social commentary. There's a low-level sense of continual upheaval: The world is changing, but the people are unwilling or unable to change with it. The characters are intoxicated by nostalgia and legend, but the show itself sees through them, even though its constant invocation of Kentucky's past as a mining economy and the loving shots of dilapidated shacks and covered bridges suggest otherwise. Modernity is growing over tradition like kudzu, and from the very start, Justified has been hip to this process."
Carson Kressley would love to join Fashion Police
"I'm not really mean at all, but I could pretend to be," says the former Queer Eye for the Straight Guy star.
Unbreakable Kimmy Schmidt is revolutionary in showing how to deal with a painful experience
"Kimmy survives not because she's unfazed by her troubles," says Anna North. "…Rather, she survives because she learns to deal with being fazed. She learns, for instance, to divide her scary and absurd life in the bunker (including stints 'turning a heavy crank, the purpose of which is unknown to this day') into manageable 10-second increments. Kimmy's not a paragon of impassive self-control — she is a human woman who is coping." PLUS: The key is to make horrible things funny.
Pretty Little Liars boss explains the finale shocker
"We had three or four ideas of who we thought would be a great candidate to steal the game as 'A' from Mona," says I. Marlene King, "and then vey early on in season three we decided who that character is."
Netflix's binge-watching model actually hurts Bloodline
Creating a show that's geared toward binge-watchers has resulted in lousy storytelling. PLUS: Kyle Chandler isn't the true star of Bloodline.
Community owes its biggest debt to Moonlighting
The '80s series starring Cybill Shepherd and Bruce Willis did meta before meta was cool. PLUS: Yahoo's longer running times has resulted in a funnier Community.
Steve Buscemi describes The Sopranos' whacking process, says he's yet to watch FX's Fargo
"I hear wonderful things about it," he said in a Reddit AMA. "I do hope to watch it… someday! Someday I hope to watch a lot of shows, haha, that I don't seem to see."
James Corden isn't particularly special, so why did CBS go out of the way to hire him?
Corden's Late Late Show debut, says Alessandra Stanley, "only deepened one of the more enduring mysteries of late-night television. There is no good explanation for why top executives at the major networks would bet on a little-known British performer who resembles every other white male talk show host already on the air rather than take a chance on a more familiar, more charismatic star who, by just being female or non-Caucasian, breaks the mold."
The Night Shift books husband-and-wife Timothy Busfield and Melissa Gilbert
He'll play a rodeo cowboy who's taken to the ER, she'll play his rodeo partner and longtime girlfriend.
Girls finale ratings hit a low among younger viewers
Lena Dunham's comedy hit a low in the 18-49 demo for its 4th-season ender, though it was up in total viewers.
Women are apologizing too much on TV these days
For instance, Mindy apologizes on The Mindy Project at a rate of five times per episode.
ABC Family orders Kevin From Work
The workplace romantic comedy premieres this summer.
Game of Thrones' Sophia Turner imagines The Real Housewives of Westeros
Cersei Lannister, she says, would be the b*tch of the series.
Netflix, Amazon and Hulu have turned into the TV establishment
As one media analyst put it, "In a world where HBO and CBS and all of these guys are trying to go to the Internet, it looks like all of the guys on the Internet are trying to come to the television. The worlds are actually converging in both directions."
Molly Shannon pays touching tribute to SNL co-star Will Ferrell at his Hollywood Walk of Fame ceremony
"God bless Hollywood and God bless Will Ferrell," she said.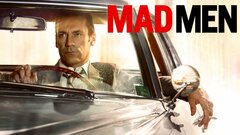 Mad Men
where to stream
Powered by