The 'Supergirl' Ladies Salute 'Wonder Woman' (VIDEO)
Forget the satin tights (fightin' for your rights!) and let's talk about the boots.
In honor of Warner Bros.' upcoming big-screen Wonder Woman (out June 2 nationwide), the ladies of Supergirl—Melissa Benoist, Chyler Leigh, Teri Hatcher and classic TV's Diana Prince, Lynda Carter—slipped on some seriously wonderful footwear for this cheeky promo set to a rockin' version of Nancy Sinatra's "These Boots Were Made for Walking" that is also being used in WW spots.
In this extended edition of the clip which dropped during Monday's Supergirl season finale, Benoist's Kara, Leigh's Alex and Carter's President Olivia Marsdin all wind up at National City's alien bar, where Hatcher's Queen Rhea morphs in to seemingly cause some trouble…until she spies Kara's killer kicks.
It's all super cute, and for anyone who grew up watching Carter flying an invisible jet, the wink she shoots after Kara says where she got her shoes is just heaven. Check it out below.
Supergirl, Mondays, 8/7c, The CW.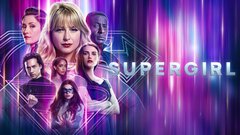 Powered by