'Bones' Boss Teases Five Major Developments Ahead This Season
Things got a little misty on Bones' spring premiere Thursday night as Booth (David Boreanaz), Brennan (Emily Deschanel), and company were once again forced to face the grim reality of Sweets' death. That painful reminder sets a lot in motion, emotionally, for the remainder of the season: "Everything we dealt with in the first half of the year comes to roost," executive producer Stephen Nathan says. Nathan laid out some of what's to come in what they call "Season 10.2.0."
Booth's gambling addiction will rear its head again
Booth will go undercover in a poker ring to try and solve the murder of one of its regulars. His cockiness where his disease is concerned ("He thinks he's got it all figured out," Nathan says) leads to a nasty relapse. "The gambling problem is something we've known for 10 years, and we've never really explored it," adds Nathan. "It seemed to be the proper time."
Booth, Cam (Tamara Taylor), and Arastoo (Pej Vahdat) will be going to Iran
In Episode 19, Arastoo risks his life by going back to his native Iran to help his dying brother, who's a little healthier than expected when Arastoo arrives. "Then, he's about to come home, and he doesn't quite make it," Nathan hints. Cam, realizing she can't live without Arastoo, heads over with Booth to rescue him.
Angela (Michaela Conlin) may not be long for the Jeffersonian team
"Angela's always been a part-time person there, and has always wanted to get on with her life as an artist," says Nathan. "She doesn't necessarily want to be around dead bodies all the time, and we'll be confronting that."
Hodgins' (T.J. Thyne) missing fortune will be accounted for
"Accounted for" doesn't necessarily mean he will be back in the black, but the dangling thread of the now-dead Pelant's theft of Hodgins' billions will be wrapped up by season's end.
Brennan's father Max (Ryan O'Neal) still has a few secrets left
After 10 years, one would think there wouldn't be any more skeletons left to unearth in Max's life. One would be wrong, according to Nathan, and he means that literally: "There's grave robbing involved."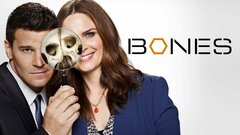 Bones
where to stream
Powered by