Discovery Orders First-Ever American Reality Show Filmed In Cuba
Discovery Channel has ordered what it believes is the first American TV series to be completely filmed in Cuba since the U.S. embargo began in 1962.
Cuban Chrome will explore the island nation's unique car culture and the people who keep its classic cars running. Vehicles from the United States haven't been imported to Cuba since the embargo began, which means its vintage American cars are frozen in time.
Executive producer Craig Piligian says Cuban Chrome was in the works long before President Obama announced in December that certain restrictions on travel and commerce with Cuba would be lifted.
Cuban Chrome will air later this year on Discovery, which is also traveling to Cuba for its next Shark Week event.
Piligian says it took a year and a half to get a license from the United States' Office of Foreign Assets Control (OFAC), the Treasury Department division that administers and enforces economic and trade sanctions, to travel and film the show in Cuba. "The first time they didn't approve us," he says. "Then we had to go back and ask more politely. Everything was done very government-friendly. Everyone knew what we were doing and why we were doing it, and who we were doing it for."
Cuban Chrome began filming last July. "I was down there the week that Obama announced the relaxation of restrictions," Piligian says. "I was down there when all the major networks were pitched up doing live shots. I strolled into the NBC tent and said hey, do you guys want to do a story about us being down here for six months already shooting an American TV show for Discovery Channel?"
The news crews, however, were too busy to pay attention to the Cuban Chrome shoot, and Piligian's team were able to film the show without word getting out of their historic shoot.
Piligian says he and his crew were left alone by the Cuban government while shooting Cuban Chrome, although they knew they were being monitored. "I've got to imagine they knew who we were, what we were doing, where we were and what we were shooting," he says. "We were in a Communist country, so they're watching us. That is a given. Was it overt? No. Covert? Absolutely. There are people there on every street corner that tell the government what's going on. Our movements were probably watched. You felt a presence whether it was there or not."
A handful of Cuban citizens were employed by the production as drivers, security and fixers. But the bulk of the actual crew came from Miami and Los Angeles.
Producing a show in Cuba, which has no infrastructure for an American TV crew, came with all sorts of challenges. "If things broke, if a camera goes down or you need anything, they just don't have it," Piligian says. "You had to supply your crew with everything from the beginning, technical, electrical and backup." Piligian made arrangements for backup equipment to also be in Cuba just in case anything went wrong.
But that's also in the spirit of Cuba's classic car culture, where mechanics must constantly improvise, Piligian says. "That's why the cars are so interesting," he says. "They have no parts, so when you're looking at a 1957 [Chevrolet] Bel Air, if they need a carburetor and anything that has to do with a transmission or ball bearing, they have to make it themselves, or use another part that doesn't really belong."
Cuban Chrome will look at Cuban culture through the eyes of A Lo Cubano Car Club, a group of car enthusiasts, mechanics and restorers who maintain and restore classic cars in Cuba.
"This is going to show a culture of people that are resilient," Piligian says. "It's a very loving society. And one with hard workers."
The Cuban production was also a personal one for Piligian, whose father was born there. "He came to [the United States] when he was 12," Piligian says. "I had a chance to visit the street he was born on. It was a unique experience for me. I had no visual of where he was from. I had no idea how my father grew up."
Anthony Bourdain taped an episode of his Travel Channel show No Reservations in Cuba in 2011, and earlier this year Conan traveled to the country for an episode. But Piligian says he's unaware of an American show that has ever taped an entire series there in modern times. "There's a mystique of shooting a TV show in Cuba," he says.
Piligian also wonders how the country will transform in the future as relations with the United States are normalized. "There is going to be an absolute shock to those people when they're a barista in a Starbucks in old Havana," he says. "They're on a different time completely."
Piligian's Pilgrim Studios (Fast N' Loud) is producing Cuban Chrome for Discovery. Piligian, Eddie Rohwedder and Sam Korkis are executive producers, along with Rhino Productions' Louis Milito, Phil Conserva and Carlos Marimon, as well as Discovery's Denise Contis and Craig Coffman.
As for Discovery's Shark Week, events shot there include the first longfin Mako shark tagged in Cuba, as well as the first sanctioned collaboration between American and Cuban marine scientists to be documented in over 50 years.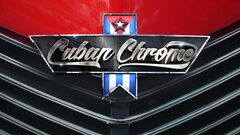 Powered by