Will There Be a 'Blindspot' Season-Finale Shakeup? (VIDEO)
Blindspot ends its second season Wednesday night with "Lepers Rebel," an hour of almost non-stop action that wraps up (sort of) the Sandstorm terrorist group storyline, and sets the stage for some major changes for Season 3.
Fans of the drama may have noticed that certain characters have been showing a level of job-related stress that could even lead to a few FBI exits. Throw in the arrival of a new head honcho (Mary Stuart Masterson), who has an offer for Jane (Jaimie Alexander) should they all survive Sandstorm's master plan, and you get the very interesting exchange seen in this exclusive clip below.
;
Could we be looking at a team shakeup in Season 3? "Definitely Zapata (Audrey Esperza) and Patterson (Ashley Johnson) have been having second thoughts I think for a few episodes now," hints executive producer Martin Gero, adding that the writers have been mapping out the show's next chapter "for a long time" and have ideas as to where to take things.
"I think what's going to be really fun about next season is that we do reshuffle the deck a little bit," he offers.
"I don't wanna get into it too much but you'll get to see new character combinations that I think are really fun and exciting."
See Also
From 'Growing Pains' young Chrissy Seaver to 'Blindspot' badass and forensics genius Patterson, Ashley Johnson has cracked the code to growing up on screen.
But before that, Jane and company need to bring down Shepherd (Michelle Hurd) and Roman (Luke Mitchell) before they blow up one of America's most vital locations. And we can assure you, that race against time will force Jane to re-evaluate her relationship with her clearly insane adoptive mother and potentially redeemable brother.
"Roman is the only blood relation she has," says Gero, heaping praise on Luke Mitchell for making the character both sympathetic and terrifying. "He's just a great actor. He brings so much depth to everything he does and really grounds it…he's got the boy-next-door good looks but makes for a totally believable sociopath."
Blindspot, Wednesdays, 8/7c, NBC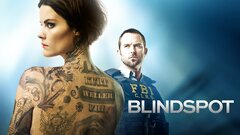 Powered by