Ask Matt: 'The Americans,' 'Idol,' 'Goldbergs,' Cancellations ('Rosewood,' 'Sweet/Vicious'), and More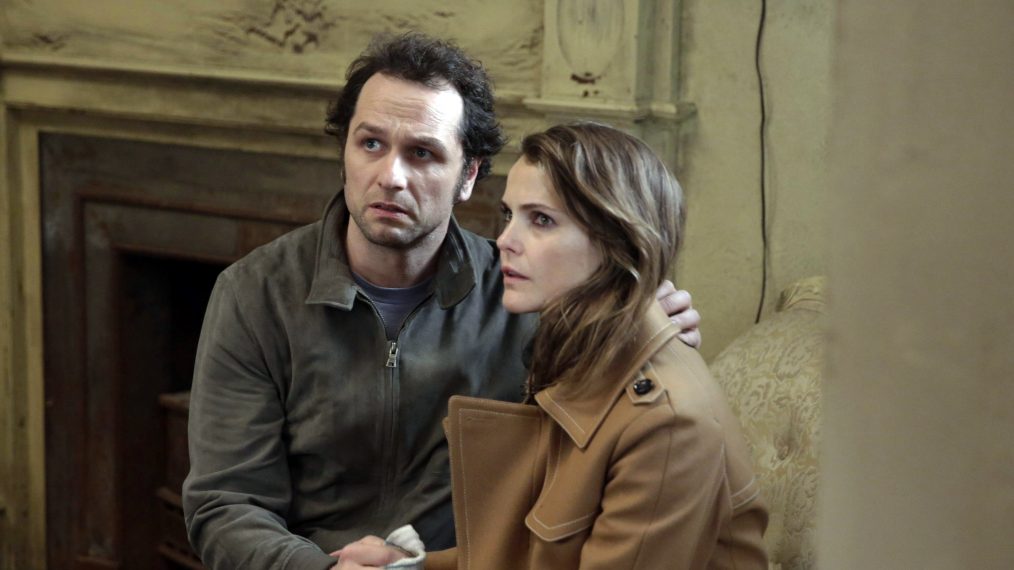 Welcome to the Q&A with TV critic (also known to some TV fans as their "TV therapist") Matt Roush, who'll address whatever you love, loathe, are confused or frustrated or thrilled by in today's vast TV landscape. One caution: This is a spoiler-free zone, so we won't be addressing upcoming storylines here unless it's already common knowledge. Please send your questions and comments to[email protected] (or use theform at the end of the column) and follow me on Twitter. Look for Ask Matt columns on most Tuesdays and Fridays.
When Is a Show Canceled Or Merely Over?
Question: Why are some shows labeled as "canceled," while others get a "final season" or announced as "ending?" To me, the shows that get a "final season" are just a ploy to try and get more viewers before being "canceled."
Also, just this week EW had a headline about Last Man Standing saying it has "finally been canceled." I've never seen such a headline about a show, and considering it averaged 8 million viewers this year, seems like a pretty big insult. One can only assume it is going because it is the only conservative pro-Republican show left standing. — Teresa
Matt Roush: Your first question is very interesting, and I have a completely different and much less cynical perspective. From my perch, any time a show can announce it's heading into a final season, it indicates an agreement between network and producers to plot out an end game, which is much better than the alternative of a show being abruptly taken off the air before the story is over. Fans are never happy to see a favorite show end—see, most recently, Grimm, or even Bones, which had a much longer run—but the opportunity to give any show closure should be celebrated, not seen merely as a ratings ploy. That said, it's obviously a useful marketing tool to be able to declare that these are a show's final episodes, building anticipation to the end. (Doing it in reverse, like last year's whiplash-inducing conclusion to Showtime's Penny Dreadful, tends to leave a bitter aftertaste. I know that one did.)
Regarding Last Man Standing's cancellation, I can't speak for another publication, but I try to stay neutral in such matters, even if I'm not a fan of the show in question. I know from long experience in doing this column (and even more years covering the beat) that every show has its fans who will be disappointed by its cancellation—I imagine even the dreadful Imaginary Mary will be mourned by someone when that shoe drops (which I hope it does next week)—and I try to take their dismay seriously without passing judgment. That said, one can assume whatever one wants about this particular cancellation, but I prefer to keep today's toxic political animosities out of the conversation. This was a business decision that probably had more to do with the fact that the show wasn't produced by ABC's parent company, Disney, than with anyone's political leanings. If Last Man Standing had drawn the ratings or the buzz of Tim Allen's earlier hit Home Improvement, or were a Disney product, it might still be standing.
---
The Americans'Slow Burn
Question: I've been watching The Americans since the beginning, but this season is odd. I'm as confused as our spies are. Their purpose seems to be waning and their solid belief in "helping" their homeland against the big, bad USA is in question, which has been happening to Philip for the past seasons. Recruiting Paige hasn't added much and even Gabriel seems to question his purpose. Perhaps this is the theme for this season, but it also is boring and slow-moving. Is this the set-up for a new storyline, where Paige becomes the super spy and her parents are turned by the FBI? What do you think of this season? – Lainie
Matt Roush: I don't see the story going where you're predicting, but you never know. And that would be exciting, if improbable, given the Jennings' past. Still, there's no question that The Americans this season is operating on a much slower burn than in past seasons, but the existential dilemma of Philip and Elizabeth as they begin to question their mission more seriously is the stuff of great drama—though admittedly lacking much of the palpable suspense that fueled past seasons, which may have peaked with Paige learning the truth about her parents. This feels a bit like the complaints that tended to swirl around The Sopranos when no one was being whacked and the "mob" aspect of the show took a back seat to true "family" drama. I'm OK with the Jennings' storylines, but I do feel the subplots involving Stan's new recruit and Oleg's life in Russia aren't as well integrated this year, and tend to slow the show down. Not my favorite season, but as I noted earlier this week in discussing the current season of Fargo, even a flawed Americans is still awfully compelling.
---
The Votes Are In on Idol's Return
Question: Regarding the return of American Idol on ABC, I'm convinced the primary reason that Idol sank in the ratings is because they allowed viewers to vote for two hours after each show—and four hours for the finale! The only people with the time and interest to text or re-dial for two solid hours would be friends/family of the contestants, obsessed fans, but especially young girls all google-eyed for the cutest boy with a guitar. All of which skewered the voting. When Idol returns, I Hope ABC adopts the same voting procedure as for Dancing With The Stars; each show, you only get as many votes as there are contestants. – Maurice
Matt Roush: Voting on these competition shows has certainly become a contentious issue, especially given the explosion of social media and apps adding new wrinkles to the process, and I agree with you about the relative simplicity of the Dancing system. But I doubt that had as much to do with American Idol's collapse on Fox than the terrible decision of importing The X Factor to steal its thunder, then the arrival of The Voice on NBC with its fresher gimmicks and more charismatic coaches. I'm deeply skeptical that there's a widespread desire for Idol to make a comeback this soon, but I've been surprised before.
---
A GoldbergGoes to College
Question: I'm a devoted viewer of The Goldbergs. As a 40-something, I can relate to the nostalgia and storylines of the '80s. Much of the current season has been subplots about Erica (Hayley Orrantia) going to college "next year." With the series getting renewed for Season 5, I'm wondering if there's been any word about Hayley Orrantia leaving the series and if not, how will Season 5 be handled with her away at college and thus away from the Goldberg family? – Greg
Matt Roush: I haven't heard how they'll be handling this storyline next season (I'll remind you this isn't a spoiler column), but one thing's for sure: She's not getting her own spin-off. ABC's black-ish is already developing a college spin-off for Zoey, and the projected Goldbergs spin-off would focus on high-school teachers played by Bryan Callen and Tim Meadows at a Philadelphia school in the '90s. Just because Erica's going to college doesn't mean she has to disappear. Look at The Middle as an example, and how well Axl and Sue have stayed integrated in the show even after they've left the nest.
---
Cancellation Woes
Question: I thought Sweet/Vicious was one of the best shows to hit the airwaves in a long time. Smart, cutting, effective, heartbreaking without being manipulative, and so, so needed. Amazingly cast and acted (I hope the two leads have long, successful careers). I really hoped MTV would renew it with its seeming staple of Teen Wolf ending, and not much else in the pipeline. I know the show flew under the radar (I believe I only learned of it on this site), but with its acclaim high and MTV's ratings standards for renewal not exactly lofty, I thought it had a good chance. Do you think it was a case of the wrong network? Timing? Was the material too challenging or inflammatory to really click? It seems like the kind of show that would have perhaps done better on a streaming platform. While I am so grateful for the season we got with Jules and Ophelia, and that the season's arc provided decent closure, I can't help but feel Sweet/Vicious is a treasure cut off at its knees too soon, destined to populate future "cancelled prematurely" lists. – Shawna
Matt Roush: Hard to say why this bold series of female empowerment didn't break through on MTV, but the ratings were pretty dire, and the channel seems to be de-emphasizing scripted shows under the current management, at least for now, so it probably wasn't the best timing for an acclaimed and risky underdog like this. The fallback these days tends to be to suggest that airing on a trendy streaming service like Netflix or Amazon would have been a more hospitable environment, and that may have been true for Sweet/Vicious. We may never know, and since they don't share their ratings, we wouldn't have had any way to gauge. But look at what's happened at WGN America, which has now reversed its recent focus on ambitious (and expensive) scripted programming, one of the first signs of a corporate retreat from Peak TV. (What will happen to Underground remains to be seen.) I expect we'll see more unfortunate casualties like these before it's over.
Question: TPTB canceled Rosewood! I thought it was an entertaining show that was placed on the wrong days at the wrong times. Would it be worth it to revive it on another station or can we expect a true finale? – Dana
Matt Roush: The April 28 season finale is it for now, so whatever wasn't resolved then probably will never be. Hard to know where the show would go from here, since it was produced by Fox's parent studio.
Question: I'm still mourning the loss of CBS's BrainDead, last summer's BEST show. With all of the craziness infecting our entire government, wouldn't you think some smart cable or streaming station would swoop in to continue the madness? I know you get lots of these fan fave requests, but I remember reading that the writers had outlined three additional seasons each to take place in a different city. How do we viewers start the ball rolling for a revisit to the series? What's your take on the topic? – Vivien

Matt Roush: The real issue here is that the show's creators have moved on, now gearing up for a second season of The Good Fight on CBS All Access. In conversation with Robert and Michelle King, they look back fondly on this satirical sci-fi lark, and there's no question it would be even more apropos airing this year. And harking back to the earlier discussion on Sweet/Vicious, I'm not alone in contending that if BrainDead had aired on Netflix last summer, it would have been embraced as the coolest thing this side of Stranger Things instead of being shunned (initially) by a CBS audience that avoids innovation like the plague. A real missed opportunity, but I'm glad we got to see a full season.
---
Lightning Round
Question: Can you PLEASE ask Hulu why they are not airing Line of Duty Season 4 as advertised? Maybe they will talk to you. They just blow off customer concerns with generic "Keep it on your play list" or "Keep checking back. It will be available soon." — Will
Matt Roush: I asked, and was told that there were delivery issues with this British import, and that they're working on getting it ready for streaming as soon as possible. No date yet.
Question: I have been enjoying Sun Records on CMT. It seemed to end rather abruptly. Will there be more episodes? — EK
Matt Roush: I may have dealt with this issue before, but no official word yet on whether the show will continue beyond the eight-episode first season, which has finished. Nashville, however, will be back June 1 with new episodes.
Question: Did MacGyver have its finale for this time of year? Will it be back? It just disappeared. Also, will Restaurant: Impossible ever be back on the Food Network? It just disappeared, too. — Gloworm
Matt Roush: The first season of the reimagined MacGyver wrapped April 14, but CBS has renewed it for a second season. The news isn't so good for Restaurant: Impossible, which was not renewed beyond the 13th season that finished airing a year ago this month.
That's all for now. We'll pick up the conversation again soon, but because of the network Upfront presentations next week, my schedule will be unpredictable, so there may only be one Ask Matt column next week on a different day. Thanks as always for reading, and remember that I can't do this without your participation, so please keep sending questions and comments about TV to [email protected] or shoot me a line on Twitter (@TVGMMattRoush), and you can also submit questions via the handy form below.