Samantha Bee Takes on the Comey Debacle on 'Full Frontal' (VIDEO)
Maybe you've heard of this man James Comey and how he got canned from his sweet gig at the FBI on Tuesday? No? Well, let Samantha Bee explain the latest crisis to emerge from Washington.
The hyperbolic cable news eruptions, the slo-mo black SUV chase, the Nixon comparisons, the White House's total lack of foresight about how the country would react to this nonsense, Vladimir Putin in a hockey jersey under the X-Mansion, #MissingSeanSpicer—it's all there thanks to the all-nighter Full Frontal with Samantha Bee's writers probably had to pull Tuesday night after, as Bee put it, "our dumb democracy ran into a wall with a bucket on its head again."
Of course, it's not like Bee is exactly sympathetic to Comey. No one is, really. "You either think he lost Hillary the election or you think he's the reason she's not locked up," Bee says.
But despite the fact that the now unemployed former FBI director is a total bipartisan bummer, Bee points out, "most of us love our democratic norms more than we hate the other team!"
See Also
Samantha Bee and notable guests, including Will Ferrell, toasted journalists and roasted the president, while guests just got toasted.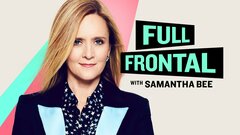 Powered by