Kathy Griffin Wins Celeb Kudos After Fashion Police Exit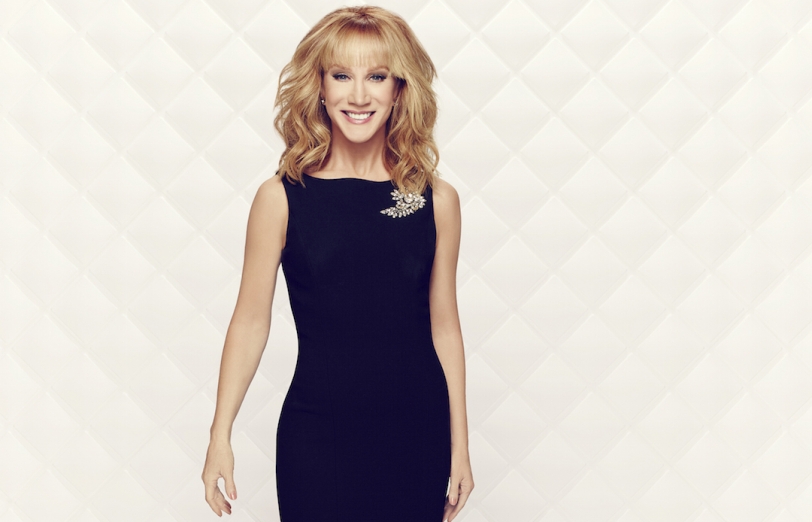 On the six-inch heels of the Zendaya's-dreadlocks-smell-like-weed comment that landed Fashion Police's Giuliana Rancic in hot water and led Kelly Osbourne to quit the E! show, Kathy Griffin has also decided to turn in her clothing-bashing badge.
"After 7 episodes of Fashion Police, I discovered that my style does not fit with the creative direction of the show & now it's time to move on," the double-Emmy winner stated on Twitter last night. Griffin's post—which actually ran longer than her stint on the show and most Kardashian marriages—also addressed her initial thrill to "step into the shoes of" her beloved friend, the late Joan Rivers, as well as her desire to use humor for good.
"I do not want to use my comedy to contribute to a culture of unattainable perfectionism and intolerance towards difference. I want to help women, gay kids, people of color and anyone who feels underrepresented to have a voice and a LAUGH!"
It's not surprising to see such upheaval at the red carpet shooting range known as Fashion Police. After the death of Rivers, who pretty much eclipsed Mr. Blackwell as the voice of trashing celebrities for their sartorial sins, Griffin was brought in, and longtime contributor George Kotsiopoulos was replaced by Bravo-lebrity Brad Goreski. The energy was different, the tone felt forced and that cheeky-but-charming edge Rivers brought to the proceedings was woefully missing. With Griffin's exit, the latest iteration of Police, due to air on March 30th as a post-iHeartRadio Awards rundown, is now set to feature just Rancic and Goreski, as well as Rivers' daughter Melissa as an executive producer.
Griffin's decision has garnered some major kudos from both her colleagues and potential targets.
I could not be more proud of you @kathygriffin you have my love and support always! pic.twitter.com/0P4yWecUA2

— Kelly Osbourne (@KellyOsbourne) March 13, 2015
@kathygriffin way to go girl. Stick to your guns. Onwards and sideways. Lub you

— Chelsea Handler (@chelseahandler) March 13, 2015
I have so much respect for Kathy Griffin. Cheers for doing what you think is right. She is my hero. "@kathygriffin: pic.twitter.com/GLUkWsJfSK"

— Aubrey Plaza (@evilhag) March 13, 2015
My brave and courageous friend @kathygriffin You're one classy dame. Onward and upward. pic.twitter.com/tjEZHeojCf

— Jane Lynch (@janemarielynch) March 13, 2015
So far, there is no word on plans to fill the empty spot left by Griffin. The network released a statement last night saying they wish the comedienne "all the best and are grateful for her time on the show, as well as the many laughs that she gave us all." Given that E! is the home of those damn Kardashians, it would not be surprising to see one of them score a gig. That is, if the show goes on. Some out there think the sport of judging celebrities on their appearances is, well, out of fashion.
I say #RIP #FashionPolice Show. Commenting on celebrity fashions is way different from bashing a person for their face, teeth and weight.

— Genn Curtis (@gennpooh) March 13, 2015
#FashionPolice died when @Joan_Rivers did. No one can carry that show. RIP JR @kathygriffin @GiulianaRancic @KellyOsbourne #notevenfunny

— LouieVeloce (@veloce6) March 13, 2015
#fashionpolice is played out. Put it and us out of our misery. Cancel & move on. #newyorklive

— tee (@uforje) March 13, 2015
@damianholbrook they should've just cancelled it. I watched a few episodes of 'the new' #FashionPolice and it was just incredibly awkward.

— Chelle † (@TVDSweetness) March 13, 2015
What do you think? Kill it or continue? We'd love to know, so share in the Facebook comments below.