Robert De Niro and Michelle Pfeiffer Go Full Madoff in HBO's 'The Wizard of Lies'
In a telling scene from HBO's upcoming TV movie The Wizard of Lies, Ponzi schemer Bernie Madoff (Robert De Niro) and his wife, Ruth (Michelle Pfeiffer), are in the kitchen of their lush Manhattan apartment. They are in the same room, but emotionally miles apart. "You'll always keep me in the dark," she says, seething. Boy, did he ever.
The film, based on New York Times financial journalist Diana B. Henriques's book of the same name, chronicles the time around the famed financier's arrest in 2008 for defrauding thousands of investors. Flashbacks reveal how Madoff managed to pull the wool over everyone's eyes, including Ruth and their sons, Mark (Alessandro Nivola) and Andy (Nathan Darrow). What the Madoffs went through during that scandal, and how it fractured the formerly tight foursome, was what director Barry Levinson (Shades of Blue) believed should be the movie's core. "This family's story is a true tragedy. I remember when I was a kid I saw Arthur Miller's play All My Sons, about a wealthy father who did something that basically caused one of his sons to kill himself," he says. "There was the same family dynamic here, with dark secrets and the way the father deals with them."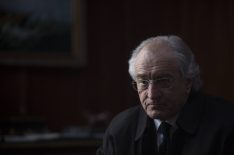 See Also
Will the film shape viewers' opinion of Madoff and his crimes?
To get to the heart of the family dynamic, Pfeiffer had the opportunity to chat with Ruth Madoff in preparation for her role. De Niro wasn't so lucky—he never sat down with the still-incarcerated Madoff. "I wanted to meet [Bernie]," he says. "Of course, it would have been nice to talk to him, but then I thought, 'Maybe this time it's better that I don't.' Instead, I looked at videos, listened to transcripts…whatever I could find." (Mark Madoff committed suicide in 2010, and Andrew Madoff died of cancer in 2014.)
One surprisingly great source for more insight? Henriques herself, who interviewed Bernie Madoff multiple times for her book and ended up playing herself in the film. According to Levinson, casting her was De Niro's idea, and the journalist became "a treasure trove of information," Levinson says. "Here's the woman that interviewed Madoff, who is now interviewing our character playing Madoff. It was great! I think it almost informs the movie in certain ways. That connective tissue was invaluable."
See Also
Richard Dreyfuss and Blythe Danner take on felonious financier Bernie Madoff and his deceived wife, Ruth, in ABC's bold new miniseries.
While De Niro (as well as Pfeiffer) makes his HBO debut with the film, the actor has been directed by Levinson before in motion pictures Wag the Dog and What Just Happened. What's the secret to their working together? "We don't beat things to death," Levinson reveals. "De Niro says, 'Let's experiment, let's see what happens here. Let's try this.' Things evolve out of those little moments. Bob always finds those moments. As a director, you think, 'OK, now we've stepped up this character.'"
And a complicated character at that. "Bernie wasn't the kind of guy who can schmooze and suck you in," Levinson says. "He was the opposite of that. And that surprised me—he was literally almost backed off, like he didn't even want to participate [with his clients]. Con men come in different packages. This was a package I had not seen before."
The Wizard of Lies, Movie Premiere, May 20, 8/7c, HBO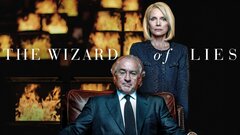 Powered by