'Madoff' Unmasks a Ponzi Schemer as a Classic Shakespearean Villain
In an early scene in ABC's two-part movie Madoff, the Wall Street "magician" enters his normally bustling work floor and finds it disquietingly empty. Then lights flash on and cheers erupt as the Salt-N-Pepa/En Vogue jam "Whatta Man" blasts in the background. The irony of a song repeating the mantra "what a mighty good man" scoring the scene couldn't be more profound: The honoree is none other than Bernard L. Madoff.
"I'd never have to sell myself again. The title would do it for me," says the main character and unreliable narrator (Richard Dreyfuss), who perpetrated history's largest Ponzi scheme and manipulated family, friends and celebs—including Steven Spielberg and Kevin Bacon—into handing him sums of money adding up to somewhere around $20 billion. (The $50-plus billion figure bandied about was the total of what victims thought they had.)
Madoff is inspired by the book The Madoff Chronicles: Inside the Secret World of Bernie and Ruth, a well-respected account by ABC's chief investigative correspondent Brian Ross. "It's a great character and family piece, but also with a thriller drive running through it," says executive producer Joe Pichirallo (Hollywoodland). That drive is fueled by real-life whistle-blower Harry Markopolos (Frank Whaley), an accounting sleuth who tried to expose Bernie's fraudulent scheme for a decade. "He warned the Securities and Exchange Commission many times," the producer says, "but they never gave it the scrutiny it deserved."
Dreyfuss was everyone's first choice to play Madoff, who rose from a working-class Queens neighborhood to a Manhattan penthouse (cheekily, the actor's son Ben plays young Bernie). "We knew that Richard could get the tough side of Bernie but also bring humanity and give us more than a one-dimensional, cardboard version," Pichirallo explains.
"I kind of look like him, though he has a real honker of a nose," the Oscar winner admits on the Manhattan set that stands in for Madoff's headquarters, a legit trading business that was run by his sons, Mark (Tom Lipinski) and Andrew (Danny Deferrari), but also was used by Bernie as a cover for the scam that was going on two floors below. Dreyfuss's daughter is a makeup artist for the Navy SEALs and made a prosthetic schnoz for the star to use, but unfortunately, applying it daily "added 45 minutes to the day and took too much time to maintain," the actor reveals.
RELATED: 2016 TV Schedule: Keep Track of New and Returning Shows
Emmy and Tony winner Blythe Danner stars as Bernie's almost equally reviled wife, Ruth, while Lewis Black, Michael Rispoli, Peter Scolari and the late David Margulies are among the familiar faces playing coconspirators, family and the scammed victims.
Dreyfuss gets mad as hell when he talks about the real-life Madoff, calling him "a self-deluded sociopath and a grotesque, outsize villain." He likens the man to one of Shakespeare's most cunning evildoers. "In Othello, Iago turns to the audience and says, 'I could stop right now, but God, this is fun and I'll do this for as long as I can pull it off!' Bernie was having too much fun to stop. He made billions, which he spent on houses, cruises and Rolls-Royces. He was a really nice guy who just happened to sneak into your house at night to steal your furniture."
If the actor sees only darkness in his character, Danner—who also played a woman modeled after Ruth in The Commons of Pensacola, a 2013 off-Broadway play costarring Sarah Jessica Parker—feels some sympathy for Ruth. "She trusted him; she was with him since she was 13 and he was very seductive. So much so that, when her sons gave her an ultimatum to stop seeing him, she chose him."
Having been introduced to Ruth by a mutual friend, Danner recalls, "I found her quite fragile and that she would never get over losing her sons [to suicide and cancer]. She wanted me to know that she was a good person and a good grandmother and didn't know what her husband was doing."
But did she or the Madoff heirs know? Dreyfuss doesn't think so ("I believe they didn't know s–t about what Dad was doing"), and the movie leans toward that position as well, although Pichirallo notes, "they all ignored many opportunities to ask questions."
That's just what the SEC did too, it turned out: Madoff was taken down not by regulators but by the 2008 financial crisis brought on by the crash and burn of unregulated banks.
The scam's terrible effect on so many people leads Dreyfuss to hope that viewers come out of this "with a sense of absolute outrage, a commitment that this will never happen again, and that everyone who is accountable in the financial industry should be fired, go to jail and shamed publicly."
Despite his strong opinions, if it were up to the actor, he wouldn't be done with Bernie Madoff. HBO also has a movie about him coming up, directed by Barry Levinson (Rain Man) and starring Robert De Niro and Michelle Pfeiffer as the infamous couple, based on the bestselling book The Wizard of Lies, written by New York Times reporter Diana B. Henriques. When Dreyfuss ran into De Niro's producing partner, Jane Rosenthal, he recounts, "I said, 'If you're still shooting the HBO version, I want to play a part. I'd play a waiter or an FBI agent. It would be great fun.' She said, 'That's a great idea.' And I never heard from her again."
Madoff, Wednesday-Thursday, Feb. 3-4, 8/7c, ABC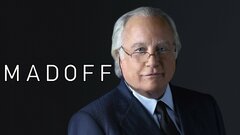 Madoff
where to stream
Powered by