'The Wizard of Lies': How De Niro Immersed Himself in Playing Bernie Madoff for the HBO Film
Kicking off today's Television Critics Association winter press tour, HBO presented a panel for their upcoming film The Wizard of Lies, which chronicles the story of Bernie Madoff and his infamous ponzi scheme that lost $50 billion and ruined the lives of everyone who had invested with him over the years. The film will air on HBO in May (actual date to be determined).
The panel consisted of executive producer/director Barry Levinson, star/executive producer Robert De Niro (playing Madoff), executive producer Jane Rosenthal and Diana B. Henriques, reporter for The New York Times and author of The Wizard of Lies book on which the film is based (Henriques consulted and also plays herself in the film).
RELATED: 2017 Winter TCA: TV's Biggest Stars Pose in Our Portrait Studio (PHOTOS)
De Niro is known for his ability to immerse himself in a role, and playing Bernie Madoff is no exception. "I spoke to people, I read Diana Henriques's book, of course, and some other books, " he said. "I didn't meet [Madoff], but I did a fair amount of research on him." Later in the panel De Niro also said, "It's just the physical, of course, seeing how I look and I studied as much as I could. There wasn't a lot of him, but the visual stuff with him, his behavior, the way he talked and that's it."
Levinson said that now that he has worked with De Niro a few times (What Just Happened, Wag the Dog), he's witnessed how the actor transforms himself for a role. "What is so great, we'll go over stuff and we'll talk a few things—this is all in pre-production—and then he'll be trying on a jacket or a thing or etcetera but step by step by step, very slowly, maybe inch by inch, all of a sudden this character begins to emerge. It's not just one day. It's somehow over that period of time of talking, pre-production and talking, but it just keeps evolving, and then there's that day when all of  a sudden there's the character he's going to play."
Will the film shape viewers' opinions of Madoff and his crimes? The Academy Award-winning actor doesn't think so. "You'll get one impression, another person will get another impression. To me, it's like the kind of story you read into it what you want like a book, a novel or something," he said. "You can't label him this or that, and I think that's a danger to go there and be too specific in some ways."
Of the way Madoff brought investors to him without aggressively pursuing him, De Niro explained, "he's a classic example of somebody who receded very much back [and] let people come to him, and people would think it was an honor for him to take your money. That's a classic con situation…he was in that position and he used it."
Of the victims who bought into Madoff's scheme and ended up losing everything, Henriques said there is a tendency to blame them for being a part of it, even unknowingly, which she doesn't see as fair in this case. "I think you can make the argument that they're more to be pitied. All of us trust people in our lives, and only someone you can trust can truly betray you, so the stature Madoff had in the financial world I can attest to," she explained having covered the Madoff case for the Times as it unfolded. "The respect and admiration he had, the success he seemed to project, his legitimate business firm was a success…you put all that together and it isn't crazy to trust Bernie Madoff. It wasn't a leap of faith, it wasn't an act of greed by any means to trust Bernie Madoff."
With talent like De Niro and Michelle Pfeiffer (who plays Ruth Madoff) in front of the camera and Levinson behind, why wasn't the film made for a theatrical release? "The [film] business is radically changing. Theatrical is going one way, and we're seeing the the cable world like HBO delving into subjects that are not happening theatrically. I'm seeing it as a promising time, and HBO has been at the forefront."
Although ABC aired a four-part miniseries last year inspired by the book The Madoff Chronicles by Brian Ross, and starring Richard Dreyfuss and Blythe Danner as Bernie and Ruth Madoff, The Wizard of Lies has its own distinctions. "It's certainly different from the ABC miniseries," Rosenthal said. "You'll have to decide how it's different from all the others. Barry does a spectacular job directing it and certainly having Diana…brought a lot to this, and obviously Bob and Michelle bring a different perspective."
RELATED: Madoff Unmasks a Ponzi Schemer as a Classic Shakespearean Villain
Since Henriques plays herself as she's interviewing the imprisoned Madoff, the journalist said of the experience of reliving it across from De Niro, "It was really an unforgettable experience to see Robert De Niro so totally occupying that character…it was surreal. The primary difference between interviewing Bernie in prison and interviewing Bob as Bernie in prison is I got a lot more takes."
Here is the trailer for The Wizard of Lies:
The Wizard of Lies, May 2017, HBO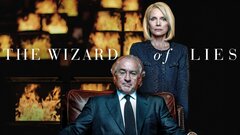 Powered by