How Realistic is Empire's Cookie? How realistic is Empire's Cookie?
To L.A. Reid, Cookie could really exist. "She's funny, she deals with talent well, she has so much game. She's real to me. She feels like the industry," says Reid, the CEO of Epic Records and former "American Idol" judge, who worked with "Empire" co-creator Lee Daniels on Precious. But former Roc-A-Fella Records general manager Al Branch disagrees, calling the Cookie character "corny." "You can't leave the scene for 17 years and come back as a producer," he says. "That's not realistic. That's almost impossible." PLUS: Jimmy Fallon weighs the pros and cons of watching Empire, and Empire by the numbers.
The Bachelor Chris Soules is said to be Dancing's mysterious contestant
Soules is the mysterious 12th contestant on Season 20 of Dancing with the Stars, according to Us Weekly.
TV's interest in minorities may be cyclical
This may be a groundbreaking year in the number of minority-led TV shows, but it may simply be a trend. If you look back at the history of TV, shows featuring black casts have been hot and cold throughout the '70s, '80s and '90s. PLUS: More minorities are being cast in lead roles this pilot season.
Tracey Ullman is launching an all-new Tracey Ullman Show on BBC
The former Fox star previously had her own BBC sketch show in the '80s.
House of Cards' director of photography calls the blue/yellow color scheme a "natural occurrence"
Igor Martinovic addresses the blue in front/yellow in back look of the series: "The blue and yellow color scheme is a natural occurrence caused by above mentioned elements rather than a 'hidden code,' however entertaining that thought may be. If one pays attention to the whole gamut of House of Cards, one can notice hundreds of shots where the faces in the foreground are warmer (yellow) and the background is colder (blue) or where the whole scene is of a more uniform tone." PLUS: House of Cards tried to be too much like The West Wing this season, what Frank Underwood gets right and wrong about drones, how HoC broke new ground for video games, and in the graveyard with Beau Willimon.
Parks and Rec boss: Rand Paul bailed at last minute, Hillary Clinton wasn't an option for final season
Paul and Clinton were the show's dream guest-stars who never made it on the show, says co-creator Mike Schur. Clinton couldn't appear for obvious reasons, since the final season was set in 2017. U.S. Senator Rand Paul of Kentucky, meanwhile, agreed to make a cameo, but bailed at the 11th hour. "I think he thought we were making fun of him, or something, which we were not, at all," says Schur. "We were in fact flattering him, by linking him to Ron. I get the sense that maybe interpreting writing and humor is not his strong suit."
Seinfeld guys reunite
Jerry Seinfeld, Jason Alexander and Michael Richards got together today for the charity Baby Buggy.
Jimmy Kimmel has Ben Affleck as his Game of Thrones-watching companion
"I recommend him as a television-watching companion He doesn't eat much, though," says Kimmel, who's on the cover of this month's EW. PLUS: Kimmel's wife Molly McNearny describes him as a total "Martha Stewart," and Kimmel on Mean Tweets.
Giovanni Ribisi cast as CBS' Sneaky Pete
He'll star in Bryan Cranston's drama pilot about an ex-con who assumes the identity of his cellmate when he gets out of prison to hide from his debtors. MORE CASTING: Alias alum Carl Lumbly joins CBS' The Zoo, Homeland's Raza Jaffrey joins CBS' "Code Black," and Ray Winstone to star in ABC's Of Kings and Prophets as the first king of Israel.
Alec Baldwin: Brian Williams wrapped himself in the "glory of the military to please his audience"
Baldwin, on his radio show, said the NBC News anchor "fell even unconsciously victim to something, which was wrapping himself in the flag and in the glory of the military to please his audience."
Watch Conan recreate his talk show on the streets of Cuba
The opening four minutes of Conan in Cuba has been posted to YouTube.
Why are most of TV's female presidents Republican?
Are showrunners trying to avoid making a carbon copy of Hillary Clinton?
To work on Mad Men, these 10 movies were "required viewing"
Matthew Weiner has picked 10 films for the Museum of the Moving Image's "Required Viewing: Mad Men's Movie Influences" film series, including Billy Wilder's The Apartment and Alfred Hitchcock's Vertigo and North by Northwest.
Outlander releases posters teasing its return
The Starz series resumes Season 1 in April.
Pop picks up Rainn Wilson's YouTube celebrity impressions show
Impress Me originally aired on Wilson's SoulPancake YouTube channel.
Can you tell the difference between a normal and sped-up Seinfeld scene?
Take a quiz to find out.
Star Trek should return to TV in an American Horror Story-style format
Each season could be like a miniseries, with a beginning and end, and a whole new cast.
Teen Mom star may have been assaulted in a domestic violence incident
Jenelle Evans' fiance, Nathan Griffiths, was arrested today on domestic violence charges.
Game of Thrones meets Taylor Swift in a parody music video
This parody music video Blank Page is based on Swift's Blank Space.
Downton Abbey couldn't survive without Maggie Smith
If she were to exit, Smith would leave behind a "Violet Crawley shaped hole" that no one could ever fill.
Nickelodeon renews Bella And The Bulldogs and The Thundermans
The live-action comedies will return for a 2nd and 3rd season, respectively.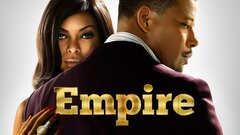 Empire
where to stream
Powered by