Michelle Monaghan: I Had a Love Scene With Tom Cruise 3 Days After My Wedding
One can assume that shooting an onscreen love scene isn't exactly romantic, because as Chris Hardwick notes, there's usually a sweaty grip with a microphone over the actors.
In a clip from the Sunday, April 23, episode of Talking with Chris Hardwick, The Path star Michelle Monaghan confirms that after doing dozens of love scenes in her career, our assumption is true.
"You know what, it is so unnerving. I think you obviously speak to your costar, and hopefully you've had the opportunity to get to know each other for a bit of time so you're not sort of delving into the sheets straight away, and so you kind of feel slightly comfortable. And then you kind of, I guess, you just sort of ease into it," Monaghan explains to Hardwick.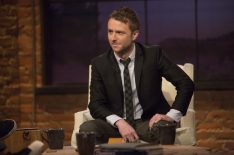 See Also
'Talking with Chris Hardwick' will expand the Nerdist podcaster's popular 'Talking Dead' format into other areas of pop culture.
Monaghan then goes on to reveal her first on-camera love scene was with her Mission: Impossible III costar, Tom Cruise, just a few days after her wedding to Peter White back in 2005.
"One of the first [love] scenes was with Tom Cruise, actually, in M:I III. My husband and I had just gotten married—literally, like three days before—and we weren't able to take our honeymoon, because we had to start shooting right away," Monaghan says.
"So your honeymoon was with Tom Cruise?" Hardwick asks. "Basically, that was exactly what it was," the actress replies.
Check out the exchange in the clip below:
Talking with Chris Hardwick, Sundays, 11/10c, AMC