Season 2 of 'The Path' Gives Us Many Reason to Join Its Cult Following
If you want to find the epicenter of the mysterious Meyerist movement, head 20 miles north of Manhattan to the residential town of Mount Vernon, New York. That would be where Season 2 of Hulu's mystical thriller/family drama The Path is taking shape. And it looks like the path that lies ahead for the show's central trio is paved with hot rocks.
Doting dad Eddie Lane (three-time Emmy winner Aaron Paul) has been banished from Meyerism for doubting the origins of the fictional sect; the group's de facto leader, Cal Roberts (Hugh Dancy), is barely keeping himself together after killing a fellow member who threatened to dissolve the religion; and true believer Sarah Lane (Michelle Monaghan)—Eddie's estranged wife who is loved by both men—will begin "to doubt and get corrupted," teases creator Jessica Goldberg.
RELATED: Did Aaron Paul Confirm a Jesse Pinkman Appearance on Better Call Saul
There's also growing disunion within Sarah's extended family, laid out in a scene filmed last September. When Cal arrives unexpectedly and joins Sarah and her clan for dinner, her father, Hank (Peter Friedman), chides him for bullying a new member. It's a gutsy move to challenge Cal, who has been the group's longtime stand-in for absent guru Dr. Steve Meyer (Keir Dullea), away allegedly writing the last pages of their holy tome. Sarah and Eddie's teen son, Hawk (Kyle Allen), who's being radicalized by sexy novice Noa (Britne Oldford), angrily leaves the room. Because Hawk, like his father, is no fan of Cal's.
"Eddie madly loves his wife but he can't live the way she wants him to anymore," says Paul. After decades of separation from the material world, Eddie heads out on his own but is overwhelmed, and latches on to a newly divorced mother, old friend Chloe (Leven Rambin). "He understands it might be an easier transition if he has someone to help him out," Paul says. "We will definitely go down that road with those two."
While Eddie attempts to find some solace in occasional secret visits with his children, Sarah could fall into a more dangerous relationship. "She and Eddie are soulmates," notes Monaghan, relaxing near a large fireplace in her Zen dressing room. "But Cal brings something that may be more powerful—a true spiritual connection. I know fans are waiting for them to 'do it.' I'll only say that something otherworldly happens that draws them together."
But she probably should run away from him as fast as she can. "Meyerism is the dam built to hold back the real darkness of Cal's character," explains Dancy. "He's terrified that could fail." Is Cal as bad as Eddie believes? Maybe, but for Dancy, there is a saving grace. "In saving himself, Cal can save the movement, which he believes is a force for good." What Sarah doesn't know, however, is that Cal may have impregnated the much younger, newly married Mary (Emma Greenwell). That forbidden sexual liaison could come back to haunt Cal.
According to the cast, this season will grow darker, starting with Eddie's visions of serpents, caves filled with aboriginal paintings, and Sarah and Cal getting closer. "His visions are premonitions," Paul reveals, "and they are calling him back to the movement, no matter how much he tries to ignore them."
Goldberg is careful to point out that the eccentric movement portrayed is not purely evil. "You give up a lot in Meyerism, but it offers something to people who seek community and meaning," she says. The strength of that appeal will soon be tested. Undercover FBI agent Abe Gaines (Rockmond Dunbar), already hot on their trail since Season 1, has finally infiltrated the group as an accepted member. Meyerist minion-to-be or snake in the garden? Maybe Eddie's premonitions can interpret that one.
The Path, Wednesdays, Hulu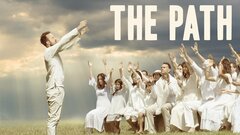 Powered by