'Bates Motel' Preview: Norman Bates up on Murder Charges as the Thriller Heads Toward Its Final Curtain
Well here we are, Bates Motel fans. The April 17 episode (10/9c, A&E) is the first of the final two shows of the series—and what a sendoff the brilliantly conceived Psycho prequel delivers!
When the thriller's penultimate episode, "Visiting Hours," opens, Norman Bates (Freddie Highmore) is in the White Pine Bay jail charged with the murders of hitman Jim Blackwell and Audrey, the mother of his sister-in-law Emma (Olivia Cooke). An exclusive photo from the episode is above.
As it should be, Norman Bates' (Freddie Highmore) story is the black hole that pulls every character inexorably toward it.
See Also
On the eve of 'Bates Motel' readying its series finale, Freddie Highmore discusses his evolution into Norman Bates.
"The final episodes are about Norman falling into an abyss and trying to pull himself out," says co-creator and executive producer Kerry Ehrin. "Part of it is the battle with [his alternate identity] Mother" (Vera Farmiga)—a.k.a. the dead Norma Bates—who is desperately trying to protect him. But it's also about him losing it on a great scale as he tries to survive in any way possible."
Despite Norman's efforts and those of his big brother Dylan (Max Thierot), survival could prove difficult. The current sheriff, Jane Greene (Brooke Smith), believes Norman is a serial killer who deserves a death sentence. And the former sheriff, the vengeful Alex Romero (Nestor Carbonell), is positive—correctly—that Norman murdered Norma (who was Romero's wife), and wants to deliver that sentence extrajudicially.
There will be no ambiguity in this finale, notes executive producer Carlton Cuse, the co-author of the controversially ambiguous Lost show ender.
"Our intention is to give, not just Norman, but all the characters a satisfying ending. From very early on, we had a plan for the end of the show. It's very satisfying as a writer to get to the end of your narrative. We got a chance to tell the story from beginning to end, and we're really excited for the audience to see the last few episodes and see how it all comes to a close. And it does very definitively, in our minds, come to a close!"
The producers promise "a lot of" surprises.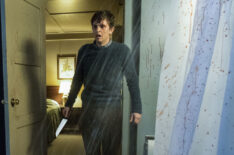 See Also
Executive producers Carlton Cuse and Kerry Ehrins give TV Insider details on the 'Bates Motel' twist and tease us about what else is coming as the A&E thriller finishes out its five-season run.
"The litmus test of our show was never the [Psycho] movie," Cuse emphasizes. "Our goal was not to answer unanswered questions of the movie or to come back to the movie. We took these characters from the movie, we redefined them and told our own story with them, so what you can expect with the end of Bates is an original ending."
Bates Motel, Mondays, 10/9c, A&E. Series finale April 24.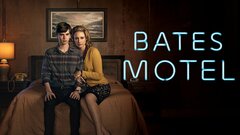 Powered by