Freddie Highmore: New Season of 'Bates Motel' Delves Deeper Into Norman's 'Imaginary Life With Mother'
Bates fans should probably get ready for some more stabbing—with a certain bloody shower curtain, finally—as the Psycho prequel heads to a finale blending the TV series with the classic movie. "We aren't redoing Psycho, per se," says executive producer Kerry Ehrin, "but watching the film will only make it more interesting."
First up in the array of homages: the casting of pop diva Rihanna as office worker Marion Crane, iconically played by Janet Leigh in the original. Ehrin and executive producer Carlton Cuse reached out to Rihanna when they learned she was a Bates superfan. "It's a substantial part," Ehrin says, "with multiple episodes."
See Also
The unscripted true-crime show was one of A&E's highest-rated series and received two Emmy nominations during its original 1999-2006 run.
Freddie Highmore (above), the British actor who plays Norman Bates, notes that he's "bringing the Anthony Perkins side of the character more than ever now." Norman will delve deeper into the delusion that his mother, Norma (Vera Farmiga), whom he killed near the end of last season, is actually alive and now a homicidal maniac known as Mother. "We explore the dichotomy of his imaginary life with Mother," Highmore says, "and the version of himself he presents: that of a lovely motel owner."
Which could be dangerous for the beautiful Madeleine (Isabelle McNally), whom Norman fixates on because of her striking resemblance to Norma. Theirs is a friendship that Mother definitely does not like. "That's kind of a theme this season," Ehrin teases. You'll also meet Sam Loomis (Austin Nichols), one of the figures from the 1960 film.
"Threads are pulled from Psycho and scattered throughout the season. Some of them are quite subtle," says Ehrin. "But people really into Psycho will like that."
Bates Motel, Season Premiere, Monday, Feb. 20, 10/9c, A&E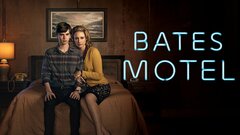 Powered by