Supergirl Casts Again: Calista Flockhart to Join DC Comics Series
Supergirl is getting a boss: Calista Flockhart. The Ally McBeal and Brothers & Sisters star is set to join the cast of the upcoming CBS series as media mogul Cat Grant, TV Insider has learned.
Kara Zor-El (Glee's Melissa Benoist) spends her mere-mortal days as assistant to Cat, who has taken herself from run-of-the-mill reporter to head of a media empire called – no joke — CatCo. Grant's underlings also include Supergirl's love-interest-with-a-secret, Jimmy Olsen (Mechad Brooks of True Blood and Necessary Roughness), who puts in his hours at CatCo as a photographer.
The addition of Flockhart as series regular is the latest in a flurry of casting news for the DC Comics-based series, which also recently announced Laura Benanti (Nashville) will play Supergirl's mom.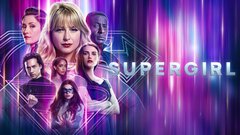 Powered by