Is 'I Love Dick' Amazon's Next Big Thing? Watch the Official Trailer and Decide (VIDEO)
Amazon is ready to give you some Dick. (Told ya that Prime membership would have its privileges!)
The streaming service just dropped the trailer for I Love Dick, their upcoming drama starring Kevin Bacon as the enigmatic academic who whips up the fantasies of a filmmaker (Kathryn Hahn) and her author husband (Griffin Dunne) after they relocate to a Texan artist commune. Notable not only for a show title that is going to sully so many future Google searches, the series is based on Chris Kraus' cult-fave novel and is also the newest offering from Jill Soloway, the creator of Amazon's heralded Transparent…and it is just as absorbing and thoughtful as that award-winning series.
See Also
Kevin Bacon returns to TV in Amazon's new series from 'Transparent' creator Jill Soloway.
Honestly, how could you not already Love a show that includes the line "You're like a Roman god bringing the spirit of sex into our lives"?! Check out the trailer here and get ready to explain to your bosses why you're gonna need the office's safe-search filter turned off next month.
I Love Dick, Series Premiere Friday, May 12, Amazon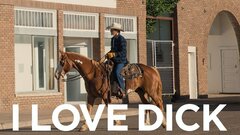 Powered by