Roush Review: Delicious 'Master of None' on Netflix, Amazon's Bold 'I Love Dick'
Bon appétit! Or should we say "buon appetito." In any language, it's an enticement to feast on the marvelously filling second season of Aziz Ansari's Emmy-winning Master of None.
As Dev Shaw, a young man with boundless appetites—for food, for love, for family, for elusive and marginal success in show business—Ansari (Parks and Recreation) has crafted a quasi-autobiographical showcase so charming, delightful and surprising in its colors and flavors that you want to herald nearly every one of its 10 distinctly different episodes as a classic.
The season begins in rustic and romantic Modena, Italy, where Dev has diverted a broken heart into an immersive crash course in pasta-making. The first episode, an artful black-and-white homage to neorealist cinema (The Bicycle Thief in particular), is followed by an escapade into foodie nirvana with his blustery best bud, Arnold (Eric Wareheim). Along the way, Dev falls for the ravishing Francesca (Alessandra Mastronardi), who remains just out of reach and haunts his forlorn misadventures in dating-app hell upon returning to New York City in later chapters.
Stylistically and thematically adventurous, Master of None continually shifts tone and focus, with no two episodes alike, as if it were a collection of inspired short stories. Dev barely appears in the sixth episode, an ode to the swirling diversity of Manhattan's cultural melting pot, featuring a silent eight-minute segment capped by an argument about sex conducted in sign language that had me howling. A lovely Thanksgiving-themed episode traces 20 years in the enduring relationship of Dev and childhood friend Denise (Lena Waithe), with her coming out as lesbian as the main course.
Food fuels so much of this delectable season. Dev's decision to flout his Muslim upbringing by eating pork triggers a showdown about race, religion and family, with Ansari's real-life parents, Shoukath and Fatima, returning as Dev's hilariously outspoken mom and dad. Nearly stealing the show this year: a swaggering, exuberant Bobby Cannavale as a celebrity TV chef who takes Dev under his wing, offering him career opportunities that begin to feel more like a trap.
Throughout, Ansari makes Dev achingly endearing in his desire for happiness. Dev may not yet have mastered life, but there's no doubt Ansari has mastered his craft.
Master of None, Season Premiere, Friday, May 12, Netflix
Love and Art: Subversive yet silly, as pretentious as it is provocative, Jill Soloway's follow-up to her remarkable Transparent is just as offbeat if not quite as immediately satisfying. I Love Dick adapts Chris Kraus's feminist cult novel into an unbridled and possibly unhinged take on sexual obsession and the mystery of desire. The difference being that a woman is doing the objectifying for once, and she isn't ashamed to admit it.
In fact, frustrated and failed filmmaker Chris (an astonishingly brave and thoroughly entertaining Kathryn Hahn) is so unexpectedly liberated by her intense erotic fixation on the inscrutably aloof and patronizing celebrity cowboy artist Dick (Kevin Bacon in a wonderfully game parody of macho mystique) that she begins posting her lust letters all around the artists' mecca town of dusty Marfa, Texas. Letters that go "Dear Dick, I will not be muzzled" and "Dear Dick, Did you think this was going to be pretty?"
Pretty is isn't, though it is undeniably fascinating to watch the community of self-obsessed creative types and performance artists respond to this unusually brazen form of literary stalking. There's a palpable sense of freedom, and indulgence, as Soloway and her all-woman writers' room explore the implications of the uninhibited "female gaze" and the impact of this obsession on Chris's marriage to Holocaust scholar Sylvere (an amusingly flustered Griffin Dunne). He's initially aroused but ultimately confounded and not the least amused when her sexual expression goes public. Dick's not a fan, either, but she does get his attention.
Obviously, this is not a conventional rom-com triangle. And I Love Dick is no ordinary show, including glimpses of experimental films that I'm glad we aren't forced to sit through. Like all self-conscious art, this is bound to be polarizing.
I Love Dick, Series Premiere, Friday, May 12, Amazon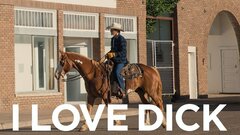 Powered by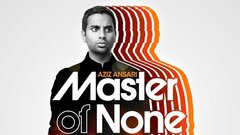 Powered by