Empire's Ratings Keep Rising Empire's ratings keep rising
This is the 5th straight week of ratings growth for the Fox drama, climbing 4% from last week's numbers. PLUS: How "Empire" achieved that surprise cameo.
60 Minutes will air Bob Simon's final segment, produced by his daughter, on Sunday
Simon's story on Ebola, which was produced by daughter Tanya, who works as a 60 Minutes producer, will have to be introduced by somebody else.
Jessica Williams is the new Daily Show host, according to Hot Tub Time Machine 2
"Hey, welcome to the Daily Show — I'm Jessica Williams," The Daily Show correspondent says in a scene set in 2025.
Jon Stewart: "Did I die?"
The Daily Show host reacted to the media reaction to his leaving on last night's show, saying: "Did I die? 'Cause it all seems very 'I died.'" Stewart also rejected Arby's job offer.
Report: Tom Brokaw had been warning NBC News about Brian Williams for a year
According to NPR's David Folkenflik, "Brokaw's told colleagues, going back at least a year, that he heard Williams giving increasingly grandiose versions of the downed Iraqi helicopter story that got him into trouble in recent days, and that Brokaw himself looked into the anecdote and that the facts simply didn't match."
Eric McCormack joins Fox pilot Studio City, playing a drug dealer to the stars
He'll play a single father who's a songwriter who happens to deal drugs to celebrities, based on a true story.
Keri Russell describes filming that hard-to-watch Americans scene
She says the director "told us that this is our sex scene for this episode. And it is. It's like this intimate, heightened moment."
Rosie O'Donnell's exit from The View was upbeat
O'Donnell came out dancing this morning for her final show.
TLC orders Strange Love
TLC's latest "strange" show will follow people looking for love in an unusual ways. It premieres March 4.
SNL launches a 40th-anniversary show app
The free mobile app contains 5,500 sketches from the show, amounting to 300 hours of comedy bits.
TNT renews The Librarians
The adventure drama series will be back for a 10-episode 2nd season.
Duck Dynasty's Las Vegas musical will tackle Phil Robertson's homophobic comments
Willie Robertson says "Duck Commander Musical," opening in Las Vegas on April 15, "will actually be the most in-depth you will ever hear about what happened inside the family. What we're depicting is very close to reality, with how we dealt with it. I'm kind of excited about that, and also kind of nervous. It's raw and it's out there, and it's peeking into our family living rooms, when that went down."
Conan O'Brien breaks into song while interviewing Anna Kendricks
Watch their interview turn into a Broadway musical.
Disney XD renews Star Vs. The Forces of Evil before its premiere
The animated series starring Eden Sher, Nia Vardalos and Alan Tudyk already has a 2nd season before its 1st season debut on March 30.
VH1 parodies Behind the Music with Behind the Tweet
Celebrities from Hannibal Buress to Brooklyn Decker are part of this six-episode web series examining social media.
Jason Alexander can't get a ticket to Larry David's Broadway musical
The "Seinfeld" star tweeted: "Larry David's play 'Fish in the Dark' is so sold out, even I can't get a ticket. You know what this means — worlds cannot collide."
Friends monkey Marcel poses in a fashion shoot with Kendall Jenner
Ross Geller's monkey, who was born in 1993, is two years older than Jenner.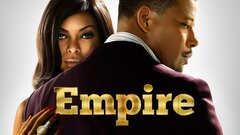 Empire
where to stream
Powered by