New TLC Series Tackles Stories of Strange Love (VIDEO)
https://player.waywire.com/?id=8FLMH2034XH78K7T
TLC's next series will chronicle the strange highs and strange lows of how love goes. The network has given an order to Strange Love, which chronicles some quirky stories of romance.
Strange Love premieres on Wednesday, March 4 at 10/9c. Each episode will include two different stories of people looking for love in unusual ways.
Participants include a woman with 50-foot hair, and who is married to a hairdresser; a professional "Santa Claus" looking for Mrs. Claus; and a woman with size 48NN breasts.
Here's a look at who else will be profiled in early episodes:
LaRue: Recently single woman looking for a soul mate willing to put up with her 17-inch nails.
Mikel: She's looking to renew vows with her husband, but needs to find a wedding dress to fit her 99-inch hips.
Cathie: After years of wearing corsets to please her orthopedic surgeon husband, Cathie now has a 15-inch waist.
Here's a first look at Strange Love.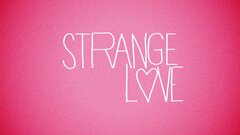 Powered by