What's Worth Watching: What Could Possibly Go Wrong?
What Could Possibly Go Wrong?, "Motorized Trike, Uber Waterslide" (Saturday, Feb. 14, 10/9c, Science)
If you're growing a little tired of the original Mythbusters dudes, Kevin Moore and Grant Reynolds can provide a little variety to your "blowing things up for Science" diet. The pair check out viral videos of people performing very ill-advised stunts (Tokyo Drift-ing into a parking space, etc.) and attempt to figure out what went wrong, so they can try themselves—sort of America's Funniest Home Videos meets Tosh.0's "Web Redemption" meets Mythbusters. After taking on various homemade rocket mishaps in last week's premiere, the guys go for a swim with an "Uber Waterslide," which, unfortunately, is not a service that delivers waterslides on demand.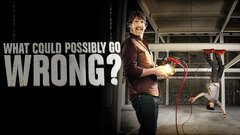 Powered by