Chelsea Handler: 'I Promised Myself When I Turned 40 That I Would Stop Doing Stand-Up'
It's been almost four months since Chelsea Handler's Netflix talk show, Chelsea, last streamed a new episode. When Season 2 of Chelsea kicks off on April 14, viewers will see longer installments (now a full hour, up from 27 to 40 minutes) and episodes dropping every Friday (instead of thrice weekly). And by mixing up celeb guests like Melissa McCarthy and Naomi Campbell with such news folk as Van Jones and Christiane Amanpour, Handler can have her usual fun while also digging deep into topics including education and climate change in the U.S. and abroad. She explains how the new format works better and why her days of doing stand-up may be behind her.
What did you learn from the first season of Chelsea that helped you shape Season 2?
I really wanted to delve into topics and have my time with them. We started out really ambitiously [last year] with three shows a week. Some people you want to sit with for 10 or 15 minutes, but when you have a six- or eight-minute time limit, as we had before, it hinders that. For each episode now, I want to pick a topic and then craft the show around it.
Episodes will include your visits to India, England and other countries. Will we still see you in the studio?
Yes, we're going to integrate the longer format with travel and in-studio segments. Since it's a global show, it's an easy opportunity to highlight all the cultural sameness that we all have. For example, I'd like to try and show people who may not have a chance to go to India that, besides the fact they drive around in tuk-tuks, we're pretty much the same.
Your past dinner party segments have included Sarah Jessica Parker, Connie Britton and Trevor Noah talking about a variety of topics. What makes for a perfect blend of people?
I feel that any dinner party is fun when you mix people who wouldn't normally be together. It's better to have four people who don't know each other at a dinner table than to have four people who do. We shot one about education with Jim Parsons, Rashida Jones, Gaby Hoffmann and my friend Mary McCormack.
Any more stand-up specials in the works?
I promised myself when I turned 40 [two years ago] that I would stop doing stand-up. I feel like stand-up was part of my old show on E!, and now I'm doing something different.
Do you see other talk shows as competition?
No, I don't. When I did stand-up, I didn't watch other stand-ups. It can be a little bit dangerous because you can accidentally start mimicking someone else. When I'm doing my own thing, I try and have my own point of view and just focus on that. For me, that's always been the best way.
Chelsea, Returns April 14, Netflix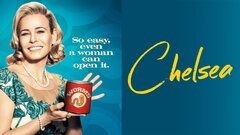 Chelsea
where to stream
Powered by