Is Russell Tovey's 'Gay James Bond' Here to Stay on 'Quantico'?
Russell Tovey looks back fondly on his past TV roles as a sweet werewolf in the BBC version of Being Human; as a a hot video gamer on HBO's Looking; and a misogynist bureaucrat on The Night Manager. But he's really digging his latest character on ABC's Quantico, where he plays Harry Doyle, an MI6 agent working with the CIA. And why wouldn't he: exec producer Joshua Safran created the role of "a gay James Bond" just for the English actor.
In an interview with TV Insider, Tovey talks about what he's learned about working on an American network show, his dream to do a movie musical and Harry—the pushy, arrogant, manipulative, emotional-button pusher, imbued by Tovey with enough, charm, wit and sex appeal to make us root for him.
Now that you're living in New York, which role do you get most recognized for?
Actually, I get noticed because of my [2006] Broadway play History Boys (he played a brash working-class student at a posh English school) at least three times a week. It happened today while I was walking my dog in Central Park!
What tempted you about Quantico's Harry Doyle?
Josh talked about everything from The Thomas Crown Affair, to The Talented Mr. Ripley and Dicken's Artful Dodger, but when he said he'd be like a 'gay James Bond,' I was, 'Well, all right. A character who's a suave British spy who's gay, that's something I definitely have to do.' I also wanted to experience working on a broadcast network series.
So what have you learned?
It can be intense, long hours until at times 3 a.m., and a lot of work. Also, still filming when you're being seen on TV is new; the show's I've done were finished and edited before we even premiered. And I feel like if you click with the audience, they push your character, and that's been brilliant for me. I also love this city!
When Harry arrived at the CIA training center, he seemed set up as a bad guy. Now, he seems more sympathetic. Should we trust him?
He's got agendas and he will manipulate situations to get on top, but he's not evil, he's not a baddie. We are learning that some of the stories he spins, including the ones about Elliot, an ex-lover who died under mysterious circumstances, are true. Elliot was the brother of my MI6 handler.
How important to Harry is getting info on how Elliot died?
Extremely. He wants to use what he learns to possibly get revenge on whoever was involved with that…he thinks he can get the info while working with the CIA.
Will it be someone who's on the show now?
Not right now, but it's potentially someone who has a history with the characters. The magic of Quantico is that we are left in the dark, which is something I had to get used to. Now I quite enjoy it.
Where does your former roommate at the CIA, Sebastian (David Lim), fit into all this? Harry's never stopped pushing him into admitting he's really gay.
Sebastian was devised as someone who would entertain Harry for a bit. Then the writers realized that we worked well together as actors and the audience responded well to them as characters, so it became a bigger story. Harry first started testing him so that he would toughen up to survive in the CIA. As an out and confident gay man, Harry's agenda was that Sebastian had to get his sh—t together and accept who he is. Since then, I believe that Harry's gotten feelings for Sebastian who reminds him of Elliot.
What's Harry's relationship with Alex (Priyanka Chopra), the show's heroine?
They're good friends; like a little team. They've become a hashtag: #halex.
Fans are shipping you two?
Yes, we've been shipped. And that's a great endorsement for characters on a TV show.
That usually means they want those characters to have sex.
Maybe we should have a bubble scene where they're having sex and then put that away. [Laughs] Harry certainly could, but I'm not sure he wants to. But they've become very important to each other as the mysteries of Ryan (Jake McLaughlin) become more relevant and more opaque. She needs Harry and he hopes he can gain more information from her.
Your Being Human pal Aidan Turner suggested you for the role of the next Doctor in the worldwide hit Doctor Who, as has former Who writer Russell T Davies. Tempting?
Of course. What a great role. But it would a real commitment for a while. I love the assistants [the Companions]. I always find them the most interesting and challenging because they're the eyes the audience sees the Doctor through them.
Would that be satisfying for you?
Yeah!
Now your fans are going to hope you're killed off Quantico.
[Laughs] Quite possibly.
Unless you can do them both.
No, not unless they can do a whole season on Quantico's hiatus.
We've seen you semi-dressed or less in lots of projects recently. I guess you'd better stay buff at all times.
Unless I get a job where I play someone a lot heavier than me, who doesn't ever go to gym and stays at home. Then I'd be Method and do that. I'm up for that.
Do I sense a little longing there?
I would feel a little bit relieved actually. Every time an episode of Quantico comes out, I check to see if Harry's in a towel. I feel if he's not, I'm allowed to have a donut every now and then and chill out.
That's not happening yet. I just saw photos from your new indie movie, The Pass, and yes, you're in your underwear again.
It's my underwear period. It happened once and suddenly people want to see me topless.
What's up next, either clothed or not?
I'm doing the play Angels in America in London as soon as Quantico finishes shooting in April. I'm Joe Pitt (a Mormon lawyer who grapples with his sexuality).
On our Facebook Live segment, you revealed you wanted to do a musical.
Yes, a musical film. I like the way they did Les Miserables on film, where there was live singing.
So you can sing?
I haven't been paid for it yet, so let's see. But I think I could do it! I'd love the opportunity.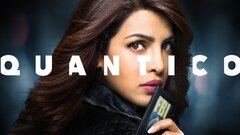 Powered by