'Empire': Lucious Brings the Heat to Keep His Throne in Season 3 Spring Premiere (RECAP)
Lucious (Terrence Howard) is literally bringing the heat in "Sound & Fury," the spring premiere of Empire. He announces his new music project, Inferno, at a party. This will be an album that Lucious is producing which will feature Empire's best artists.
Cookie interrupts Lucious' victory speech by bringing out his mom, Leah Walker (Leslie Uggams), on stage for everyone to see. You can imagine how confused the audience must have been when they heard the news that Leah's not dead. They probably thought they were seeing a ghost.
Jamal (Jussie Smollett) is doing a lot better with his addiction than the last time we saw him, thanks to rehab. He's even made friends with musician Tory Ash (guest star Rumer Willis) while in rehab.
See Also
Rumer Willis guest-stars as rocker Tory Ash on Fox's musical drama 'Empire'.
The Lyon family has a meeting with Jamal and his therapist to see how he's progressed up until the half-point mark in the program. However, Lucious and Cookie (Taraji P. Henson) can't seem to leave their problems at the door, and they start bickering with each other. Jamal's words say he wants to come back home to work on his music, but his face is saying he's glad he hasn't been dealing with all this drama.
Watch out, it's a catfight! Cookie helps Hakeem (Bryshere Y. Gray) and Tiana (Serayah) sabotage Nessa's (Sierra McClain) private performance to show Lucious who's really in charge. After exchanging a few words, Nessa decides to snatch Tiana by her hair and throw her into the audience. Everyone rushes to try and separate the two, but Shine (Xzibit) is more interested in watching the fight.
Jamal and Tory break out of rehab, making Lucious and Cookie go on a wild-goose chase to find Jamal. Tory tries telling Cookie what to do, and even tells her she needs to leave so she and Jamal can finish recording their song together. Once everyone calms down, the singers are able to finish recording.
Lucious makes Anika (Grace Gealey) the new head of A&R, taking over Cookie's old position. Anika could never replace Cookie! Plus, Cookie has a higher title than Anika.
Cookie goes Beyoncé's Lemonade on Lucious and starts breaking things in his office with a bat. Records that Cookie worked on but didn't get credit for because she was the one in jail are smashed into little pieces. At least she's not acting like Negan with Lucille and using it on him.
After bashing through Empire's offices, Cookie and Lucious begin a makeout session. No idea why, but I guess there was just so much passion there that they didn't know what else to do. They do have a crazy love story together.
Cookie eventually pulls away from Lucious, keeping to her word that she's done with Lucious and his games. Good for you, Cookie! So does this mean she cheated on Angelo?
It will be interesting to see if Andre (Trai Byers) will keep to his word about killing his dad this season. Lucious has to watch out for his own son killing him and Tariq (Morocco Omari) trying to arrest him for Frank Gathers' murder. I don't think Cookie is on his good side either, so he'll really have to sleep with one eye open.
Empire, Wednesdays, 9/8c, Fox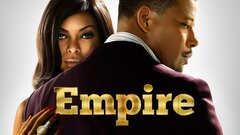 Empire
where to stream
Powered by