'The Walking Dead' Gives Major Leaguers a Date With Lucille
Like most fans of The Walking Dead, I can't resist a good piece of swag. My "Lucille Sluggers" baseball jersey appropriately mortifies my mother. I'd have a teeny-tiny rubber replica of Lucille—TWD super villain Negan's iconic barbed-wire bat—dangling from my key chain if my husband would allow me to remove the sacred object from its box. He won't. It doesn't pay to ask. The curiosity about which ones we actually have only appears to be killing me.
Last week, some Major League TWD fans (like, literally Major League) got the best, most appropriate and ever-so-slightly disturbing "welcome to spring training" present when the show gifted them with their very own Lucilles. A number of them took to Twitter to show off their killer new lumber.
I'm so happy right now! Thanks @WalkingDead_AMC for this gift! #MeetLucille pic.twitter.com/rdAWXpxZ3O

— J.D. Martinez (@JDMartinez14) February 17, 2017
.@SalvadorPerez15 has a new piece of lumber in his arsenal thanks to @WalkingDead_AMC. #RoyalsST pic.twitter.com/eXk44fRewa

— Kansas City Royals (@Royals) February 19, 2017
Yasiel Puig is ready for the zombies this season, with his "The Walking Dead" bat. Photo… https://t.co/6Xc3O3XTNy pic.twitter.com/8c8sAH78VL

— Doug Padilla (@DougPadilla) February 17, 2017
Pick me out a winner @RobinsonCano… Her name is Lucille! @WalkingDead_AMC @Mariners #Negan #MLB #TheWalkingDead pic.twitter.com/ajH2NAaGfV

— Russell Hartness (@RussellHartness) February 19, 2017
We reached out to AMC to find out the actual composition of the Boys of Summers' bats (and how they chose who got the swag), but we struck out. So we'll just trust that they'll use their new gear to murder fastballs—and, maybe, our jealous hearts.
See Also
The seventh season of the AMC mega-hit has been as creatively diverse as it has been controversial.
The Walking Dead, Sundays, 9/8c, AMC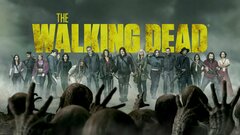 Powered by