'Empire' Season 3 Episode 11: Who Can You Trust? (RECAP)
The damage has been done but Lucious (Terrence Howard) and Cookie (Taraji P. Henson) are keeping things hush-hush about what happened on last week's episode of Empire. Just as the broken glass was swept away, these two are sweeping their feelings under the rug.
Hakeem (Bryshere Y. Gray) has his directorial debut for Tiana's (Serayah) new single. The two appear to be happy together again but Tiana isn't ready exactly ready to become Bella's stepmom. I don't really blame her. Anika (Grace Gealey) is cold-blooded.
Jamal (Jussie Smollett) is back in the studio with Tory (guest star Rumer Willis), making new music for Empire's Inferno project. Cookie warned Jamal to always delete the drives after recording in the studio so Lucious wouldn't get his hands on it. Not listening to his mom, Jamal leaves his new work in the studio for Lucious to find and brings in Tory for his new song with Nessa (Sierra McClain).
There's no denying what happened between Lucious and Cookie was out of love but Cookie wants to make sure that Lucious doesn't open his big mouth and ruin things with Angelo (Taye Diggs). Cookie better plan on telling Angelo what happened soon because Lucious can only keep his mouth shut for so long.
One thing to remember: Do not mess around with Mama Walker (Leslie Uggams)! You do her wrong and she'll make sure to get even. She meets with Tariq (Morocco Omari) to tell him that Lucious broke his promise about getting rid of Anika and instead, gave her a new job.
Anika still won't talk but Tariq pushes her by handing her a subpoena. She's left with no choice but to accept government protection from Tariq. Anika doesn't want to get Bella involved with this so she hands her over to Hakeem and hops on a bus to run away from Tariq. I'm sure that was not the best move but whatever.
The Feds are after Cookie again by saying she violated her parole and Angelo has had enough. He walks into Lucious' place thinking he can solve things by giving Lucious a good talking to. That's a joke. Angelo thinks Lucious is trying to get Cookie in trouble but Lucious assures her it must be Tariq.
Jamal ends things with D-Major (Tobias Truvillion) but gets things started with his therapist, Phillip (Juan Antonio). I hope D-Major isn't the jealous type.
Andre (Trai Byers) is brought into making a deal with a Vegas man named Rafael Green (Al Vicente) to help bring in Empire artists. The only problem is he's working with Shine (Xzibit) and his buddy Danger on this deal and he sticks out like a sore thumb. He has no business dealing with the big boys who might get his suit dirty.
This Rafael guy freaks out and starts to think his wife Giuliana (guest star Nia Long) set him up by meeting with Andre. I guess the joke is on him because Giuliana pulls out a gun and shoots Rafael.
The scene quickly turns into a cowboy shoot out as Danger pulls his gun on Giuliana and Shine pulls his out on Danger to then kill him. Now Andre and Shine are making a deal with Giuliana for Vegas. This was definitely not what I saw coming. Who knew you could have two deaths in the last few minutes of the show?
Empire, Wednesdays, 9/8c, Fox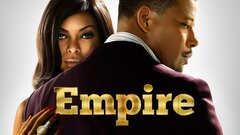 Empire
where to stream
Powered by