Rihanna's Salute to Marion Crane Shakes Up 'Bates Motel'
Rihanna is finally making her first appearance as Marion Crane in Bates Motel, A&E's enthralling re-imagined prequel to Psycho. The singer/actress shows up in the first of two related episodes on Monday, March 20. We'll see her first when she makes a dangerous decision that will alter her life, and eventually follow her to White Pine Bay, where she's looking for someone she knows very well. And just might pause to take a shower.
Rihanna as Marion Crane in Bates Motel
Sweetening the pot: the first episode, Dreams Die First, was directed by Nestor Carbonell, who plays the vengeful short-time stepfather to Norman Bates (Freddie Highmore). Rihanna's second episode, Marion, airs March 27.
This Marion definitely has some similarities to Janet Leigh's iconic character, including showing up at Norman's motel on a dark and stormy night, but "she's a more modern version," says executive producer Carlton Cuse. He thought about casting Rihanna, he says, "after I read an interview in which she said that Bates Motel was one of her favorite shows. I thought, 'What the heck. I'll make a phone call.' It just really struck me that it would be such a different version of this character. What had worried [his fellow exec producer] Kerry Ehrin and me, which was how do we a Marian Crane that isn't a pale imitation of Janet Leigh. The answer was Rihanna. She's completely her own person and what she brings to the table and the way she plays this character is brand new."
Rihanna's clearly not afraid to tackle spin-off's of famous projects. She's in 2018's Ocean's 8, the upcoming female version of the Ocean's heist-movie trilogy, with a high-profile cast that also includes Sandra Bullock and Cate Blanchett.
Tune in Monday to make up your own mind about her new 21st century Marion Crane. And see what Mother, aka Norma Bates (Vera Farmiga) makes of the new gal in town.
Bates Motel, Mondays, 10/9c, A&E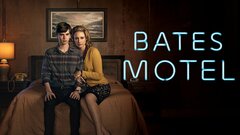 Powered by