ABC to Resurrect Reality Competition BattleBots for Summer
TV is bracing for another robot uprising, this time in primetime. ABC has given a series order to BattleBots, a new take on the killer robot sport franchise that last aired over a decade ago.
The network has given a 6-episode order to the show, which will air this summer. BattleBots comes from the creators of the original franchise, Ed Roski and Greg Munson. It's an update on the original series, which ran for five seasons on Comedy Central between 2000 and 2002.
In the show, homemade robots battle each other in a single elimination format until there is one champion. The competition will no longer be divided into separate weight classes; instead, robots of all sizes will compete against each other. Winners in the championship rounds will receive cash prizes.
The new version will emphasize design and build elements of each robot, as well as bot builder backstories. Onboard cameras and technology will also give audiences more combat analytics. Whalerock Industries is behind the show; Lloyd Braun, Chris Cowan, Roski and Munson are executive producers. MGM Television is distributing the program internationally.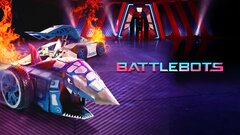 Powered by