What's On: NBC's 'This Is Us' Ends a Tear-Jerking Freshman Season, Followed by a Triumphantly Silly John Lithgow in 'Trial & Error'
This Is Us (9/8c, NBC): Few series have touched viewers as immediately and deeply as this cleverly structured, unabashedly emotional story of the Pearsons: siblings Kate, Kevin and adopted Randall, and their parents Rebecca and Jack, the latter representing a career high for Milo Ventimiglia as TV Father of the Universe. In the first-season finale, he races to Cleveland to save his marriage (to Mandy Moore, also terrific), and we fear this may have some bearing on why Jack is only a memory to his family in the present day, all of whom are facing personal crossroads. We'll miss this show, but can take comfort that NBC has renewed Us for two more seasons.
Trial & Error (10/9c, NBC): Is there anything John Lithgow can't do? Having triumphed as Winston Churchill in Netflix's The Crown, which is sure to earn him Emmy attention, he returns to the network where he won three Emmys as the loopy Dick Solomon on 3rd Rock From the Sun, in a role perhaps even more unhinged. In a mock-documentary sendup of the true-crime genre, he plays a befuddled murder suspect whose every impulsively inappropriate utterance and action makes him seem more guilty by the moment. Nicholas D'Agosto is sheepishly charming as the Northern lawyer sent to the sleepy South Carolina burg to handle his seemingly hopeless case, with the help of buffoonish sidekicks who can make Trial more of a trial than it needs to be. The series opens with back-to-back episodes before moving into This Is Us's time period next Tuesday.
The Americans (10/9c, FX): "How long before she slips?" wonders Elizabeth (Keri Russell) of teenage daughter Paige (Holly Taylor), who more and more looks like she can't handle the truth about her Soviet-spy parents, as another gripping season of this excellent and oh-so-human thriller continues. As Elizabeth and Philip (Matthew Rhys) try to help Paige learn to keep her emotions in check—which isn't easy for the grownups either—first on the agenda is to cool her growing ardor for the neighbor across the street, whose dad is FBI agent Stan (Noah Emmerich). And Stan has espionage woes of his own, trying to talk a CIA colleague out of ruining Oleg's (Costa Ronin) life back in Moscow. The stakes couldn't be higher.
Inside Tuesday TV: Like a real-life Chinatown, National Geographic Channel's premiere of Water & Power: A California Heist (9/8c) investigates how water barons took control of the precious natural resource in a state that has been ravaged by drought. … The latest fan favorite to take a victory lap in the final season of Fox's Bones (9/8c) is the beloved Betty White as Dr. Beth Mayer, who offers some pearls of wisdom to Bones (Emily Deschanel) about passion in the workplace. … VP Murray (Matt Oberg) plans to propose to Eileen (Martha Plimpton) in the season finale of ABC's underrated The Real O'Neals (9:30/8:30c), but only if her ex, Pat (Jay R. Ferguson) gives his blessing.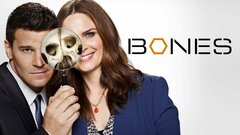 Bones
where to stream