'Bones': Booth and Brennan Reunite with Betty White's Dr. Mayer (VIDEO)
Betty White is stopping by Bones one final time before the long-running Fox series ends.
In Tuesday's episode, "The Radioactive Panthers in the Party," Booth (David Boreanaz) and Brennan (Emily Deschanel) are having a normal day—talking about the latest victim and playfully bickering about when the right time to discuss math is, while picking up food from the Royal Diner—when they encounter Dr. Mayer (White) eating lunch.
In the exclusive clip below, Brennan is initially confused by Dr. Mayer's Jeffersonian lanyard, but learns that she's actually working with the zoology department. In fact, Dr. Mayer's study into prairie dogs ("Did you know their entire mating window is one hour a year?") has lit a new spark in the doc, who has lost her passion for forensic anthropology.
Check out the exchange:
Bones, Tuesdays, 9/8c, Fox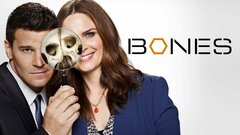 Bones
where to stream
Powered by