'The Originals' Producer Julie Plec Shares Her Love of Vampires, Horror and Fantasy
Think of a show with pretty, sexy vampires or superpowered young people prone to brooding and romance and Julie Plec is probably involved. Earlier this month, her Vampire Diaries finished its eight-year run, and its spinoff, The Originals (Fridays, 8/7c, The CW), just returned for Season 4. The Originals' storyline is now set five years after Klaus Mikaelson's protégé, Marcel, took down Klaus's vampire family. "It's a dark season with a new insidious villain who causes a lot of damage," Plec teases. She shares how her love affair with horror and fantasy began.
Your first producer gigs were on Wes Craven's movies. How did a nice girl right out of college get to work with the master of horror? I was never a real fan of horror movies outside of slumber-party experiences during the reign of Friday the 13th and Nightmare on Elm Street. When I was new to Los Angeles, a friend who was Wes's assistant was promoted and asked if I was interested [in the assistant job]. I thought, "I don't want to be a director, I don't really like horror movies, but yes!" In my first year, a script came across my desk that became Scream. It was a love letter to the fans that made me appreciate the genre.
Why did you make the move to TV? I had this epiphany around 2000 when I realized I was watching tremendous shows like Buffy the Vampire Slayer, Angel and Ally McBeal and I hadn't seen a movie I'd liked—let alone loved—in six months. I decided to shift focus. Kyle XY is the show where I officially started writing. I had produced the pilot, but when the only woman on the writing staff left, the executive producers suggested I take a shot at writing the scripts. That was the beginning of the next 10 years of my career.
You've produced shows alone and with partners. Which do you prefer? I hate to work alone. I like having a sounding board and, more importantly, I like having a bad cop, because I am a pushover. Conversely, if I get an idea, I want to execute it right away. I forget to check in with my partner before I do things. [Laughs] It's probably kind of difficult for people to work with me!
What are the main ingredients in making a hit sci-fi/fantasy show? Integrity of rules—you can't just make s–t up and then deny it in later episodes; more answers than questions; and a grounding in deep humanity.
The Originals, Fridays, 8/7c, The CW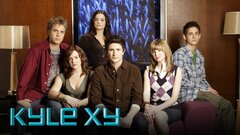 Kyle XY
where to stream