Gotham Casts Milo Ventimiglia as Serial Killer Ogre
Only on TV could a man as fine as Milo Ventimiglia be considered an ogre. But that's just what the Heroes alum will be playing on Gotham when he joins Fox's pre-Batman crime hit for a major, multi-part arc, TV Insider has learned.
Described as "serial killer who has been preying on the young women of Gotham for nearly a decade," Ventimiglia's Jason Lennon, aka Ogre, has a nasty habit of luring ladies "into his web and confronting them with a series of 'tests' as he searches for his perfect mate." Those who fail to make the cut? Well, they definitely get cut.
While the character shares the name of a DC Comics' baddie, this Ogre is not the genetically altered human experiment from the Batman mythos. Ventimiglia—who will also be seen in ABC's supernatural mid-season drama The Whispers—is set to debut in the season's 19th episode. He'll stick around long enough to cause an obsessive Gordon (Ben McKenzie) a lot of trouble and lead several people in the good cop's world toward a tragic turn of events.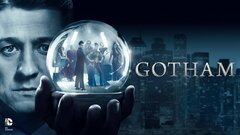 Gotham
where to stream
Powered by