'Modern Family' Star Julie Bowen Judges 'MasterChef Junior'
Julie Bowen can get pretty darn judgmental as mother-of-three Claire Dunphy on Modern Family—so who better to judge a "Let's Feed Mom" competition on Season 5 of MasterChef Junior?
The Emmy-winning funny lady will join resident judges Gordon Ramsay and Christina Tosi on the Thursday, March 16 episode (8/7c) of the Fox reality hit, during which the young contestants are asked to create a memorable meal in honor of their mothers. Also appearing in the hour is First Lady Michelle Obama, who will challenge the cooks to create a dish inspired by ingredients found in the White House garden.
Check out this exclusive preview: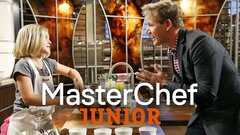 Powered by