Gordon Ramsay Previews What We Can Expect on Season 5 of 'MasterChef Junior'
Hands in the air! MasterChef Junior is back for Season 5 with a dazzling roster of guest judges that includes Martha Stewart, Mayim Bialik, Julie Bowen, Miss Piggy and Michelle Obama. But the real stars are the 8- to 13-year-olds who kick keister in the kitchen with the hope of taking home $100,000. Host and judge Gordon Ramsay breaks it down.
When MasterChef Junior premiered in 2013, the level of talent was extraordinary. Now it's completely off the charts. What's happening here?
Isn't it amazing? These kids keep getting better and better. Each season, they are more elegant. Their palates are increasingly sophisticated. Martha Stewart actually welled up at their level of artistry. She was at a loss for words! And so much of that is due to the parents who are sending their kids to cooking school. They're like obsessive dance moms.
See Also
Some of our favorite TV characters just can't seem to get lucky in love.
Yet these kids don't have the cutthroat competitiveness one sees on the dance-mom shows. What's the difference?
I don't accept bitchiness or nastiness. I don't want to see that. I find most of our kids to be extremely polite and loving. They aren't vicious and aggressive. We're getting them at just the right time in life. Also, I do not tolerate profanity.
What, you, Mr. Potty Mouth?
[Laughs] I say to them, "Look, I've got alternatives. Let's start off with the word s–t. You are now going to use the word shitake." And we go from there. I have a whole list.
The evictions can be painfully emotional. How do you handle all the crying?
I don't mean to be cruel, but crying is important. Emotion needs to be expressed. In fact, it's paramount. But it's also important to remind these young ones that leaving the show is not the end of the road. They understand the value of unity and teamwork. They've gained self-esteem. And they see that helping each other through a challenging situation is more important than the win. Nobody loses on MasterChef Junior.
MasterChef Junior, Season Premiere, Thursday, Feb. 9, 8/7c, Fox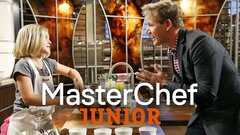 Powered by