Disney XD's 'Milo Murphy's Law' Returns to Put More Positive Spin on Catastrophe
Couldn't we all use a little hope and positivity these days? Disney XD's delightful Milo Murphy's Law (weekdays, 7am/6c) is back March 6 with a bunch of fresh episodes—and fresh disasters. The series, from Phineas and Ferb creators Dan Povenmire and Jeff "Swampy" Marsh, spins on the ever-malfunctioning life of young Milo (voiced by "Weird Al" Yankovic), a descendant of the guy who came up with Murphy's Law. You know the one: "If it can go wrong, it will go wrong." Even a simple trip to get ice cream can be wildly catastrophic for Milo, but he always stays spirited and optimistic.
"While Phineas was a celebration of creativity for kids, Milo is all about finding strength and happiness in the face of adversity," says Povenmire. "A lot of people get bogged down with the things that go wrong in life, but Milo deals with whatever life throws at him. Our show is a celebration of that mindset."
See Also
Disney XD's new animated series has animators rapping (again).
It's all about choice. "You define whether you're going to be happy or sad in this world, or whether you succeed or fail," says Marsh. "Milo looks at all the things that go wrong in the course of his day and thinks it makes his life much more interesting, fun and adventurous. In fact, he wouldn't want to live without all this craziness, and that is awesome."
Upcoming plots have Milo facing a number of potential nightmare scenarios—a school dance, a roller-coaster ride, a family RV trip. And Povenmire and Marsh will make several appearances as Dakota and Cavendish, a pair of time travelers from the future. And we do mean several. Cracks Marsh: "We find that we're very easy to work with."
Check out these preview clips from this Monday's "Family Vacation" episode:
Milo Murphy's Law, returns weekdays beginning March 6, 7am/6c, Disney XD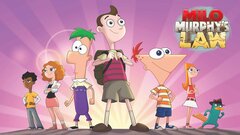 Powered by